The expansion of Romanian retailer Profi Rom Food SRL site in Ploieşti, Romania is at an advanced stage. The extension construction project is due to complete by September 2018.
Profi Rom Food is currently the existing tenant at Logicor Ploieşti, leasing 30,000 sqm of warehouse space. The lease contract between Logicor and Profi concerns the extension of warehouse space by 20,449 sqm, including battery charge area and office space, as well as external pallet storage, truck and staff parking. The additional space and better operational use provides the supermarket chain the efficiency they require to continue their planned expansion within Romania.
Profi Rom Food is a retail chain with the widest geographical coverage in Romania, having a strong presence with some 800 stores. The expansion of the Ploieşti warehouse will create an important regional distribution hub for the company in southern Romania, servicing the capital city Bucharest as well as the neighbouring Ploieşti and Brasov regions.
Gaëtan Pacton, Expansion Director at Profi Rom Food SRL, said: "The strategic location of Logicor Ploieşti park, the possibility of its further development in the future, as well as the high quality of the solutions and the speed of operation of our partner Logicor were crucial for us when deciding on our warehouse expansion here."
Logicor Ploieşti is located on the DN 72 Ploieşti-Târgovişte road, approximately 8 kilometers west of Ploieşti city centre in Prahova County. Prahova County has a strategic geographic position due to its proximity to Bucharest (approx. one-hour driving time) and to the largest airport: Otopeni-Henri Coanda International Airport. The park is also located in close proximity to junction A3 and Ploiesti Ring road. Ploiesti market is the third major logistics region in Romania with 250,000 sqm of existing stock (10% of total stock).
Bartek Mierzwiak, Managing Director, CEE at Logicor, said: "We are delighted to support our customer's business and accommodate their future growth by delivering this state of the art warehouse expansion."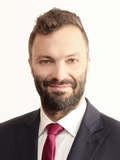 Bartosz Mierzwiak
Managing Director, Central & Eastern Europe
Logicor
Bartek Mierzwiak is Managing Director, Central & Eastern Europe, responsible for the day–to-day management and operation of Logicor's platform in Poland, the Czech Republic and Hungary. Prior to joining Logicor in September 2014 he spent four years at Prologis as Country Manager, Poland, overseeing asset management, development, built-to-suit and leasing operations in Poland. Prior to that he was with Jones Lang LaSalle Poland for nearly eight years where he was responsible for office leasing across Poland, advising tenants, investors and developers. Mr. Mierzwiak is a graduate of the Warsaw School of Economics and also holds a Law & Administration degree from Warsaw University.
More »