CTP is launching another industrial and logistics complex in the Mazovia region in Poland. The developer will develop two cross-dock facilities in Emilianów with a total leasable area of nearly 102,500 sqm. The investor has already received a building permit for the first phase of the investment. Its commissioning is scheduled for the end of the second quarter of 2024.
CTPark Emilianów will be built in the Wołomin district, off the S8 expressway and just 30 km from Warsaw. In the first phase, the developer will build 59,400 sqm of new space with up to three storeys of office space. A second, slightly smaller building will provide more than 43,000 sqm. The park will thus enable businesses to grow within a single location.
Bogi Gabrovic, Deputy Country Head at CTP Poland, comments: "We currently have a solid package of warehouse and industrial properties under construction - nearly 400,000 sqm of space. We concentrate our business in the most important logistics and production hubs of Poland. Hence the decision to launch our fifth investment in Mazowieckie. With this project, we want to respond to the needs of Polish and international companies for supply chain optimisation. We will provide an infrastructure that will have a direct impact on reducing transport time and costs, appropriate use of resources and better inventory and delivery process management. Among other things, our warehouse will enable cross-docking."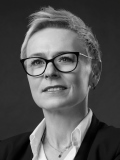 Bogi Gabrovic
CTP
CTP Poland
A seasoned and inspirational team leader, Bogi brings 25+ years' experience from PricewaterhouseCoopers PWC and finance executive roles from multiple international organizations to her role as CFO for Poland, where she plans to help develop a strong local team and build CTP's presence in CEE's largest economy. She also brings an entrepreneurial spirit to CTP Poland, having incubated her own businesses in the US, which provided her with an owner's view on business opportunities and risk.
More »
The net 12 m high buildings will also allow for high-level product storage. In addition to solutions that increase logistical and operational efficiency, at CTPark Emilianów the developer has envisaged technologies that foster low carbon emissions and optimise operating costs, including LED lighting control systems and electric car chargers located in dock areas. The roofs of the buildings, in turn, will be adapted for photovoltaic installations – allowing the development of 2 MWp in the first phase.