Trei Real Estate GmbH has opened its 18th retail park under the Vendo Park brand in Poland. The retail property is located in Solec Kujawski in the Kuyavian-Pomeranian voivodship. The town of around 16,000 residents is located a two-hour drive south of Gdansk. The new Vendo Park provides a lettable area of around 3,000 square metres and 97 parking spots. The property is almost fully occupied. Its tenants include KiK, Sinsay, Martes Sport, RTV Euro AGD and Hebe, among others. Overall, Trei invested c. €3.8 million here.
Pepijn Morshuis, CEO of Trei Real Estate, commented on the opening: "The retail park in Solec Kujawski is already the third Vendo Park we managed to open in Poland this year. Another four will follow before the end of the year. The coronavirus pandemic has not slowed our development activities in Poland. We started the construction in Solec Kujawski in February and were able to complete it right on schedule. All things considered, Vendo Parks proved particularly stable during the pandemic, and very much in demand among consumers. What shoppers appreciate in particular is that all of the stores are directly accessible from the parking lot so that—unlike in shopping centres—you don't have to pass through common areas. We see this reflected in the strong demand among retail tenants."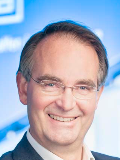 Pepijn Morshuis
CEO
Trei Real Estate
Pepijn Morshuis serves as CEO of Trei Real Estate since 2015. His responsibilities include the departments International Transactions, Asset Management and Development. Before joining Trei, he spent 19 years working for Dutch asset manager The IBUS Company, the last eleven years thereof as its CEO. At the time, IBUS was a globally active, independent real estate investment and asset management company. Before, he was Auditor at Arthur Andersen. Morshuis looks back on a total of 25 years of real estate experience and has been responsible for development and repositioning projects involving office, residential and retail properties in Europe, the United States and Asia.
More »
Overall, Trei holds 28 Vendo Parks in its portfolio, of which 18—Solec Kujawski included—are located in Poland. Additional assets in Czestochowa, Zielonka, Lukow and Wladyslawowo are expected to come on-stream before the end of this year. Morshuis added: "Trei intends to become the biggest retail park investor in CEE. Our objective is to have completed 50 assets or more within the next three years."