Trei Real Estate, a developer and asset holder for residential and retail real estate with activities across Europe, just opened the 17th retail park of its Vendo Park brand in Poland. The retail park is located in the city of Płock in the Masovian voivodeship. Płock has a population of around 120,000 residents and lies roughly 100 kilometres north-west of Warsaw. The total investment costs equal €6.7 million.
Extending over 4,200 square metres of lettable area, the retail park is home to the established retailers Lidl (food), whose unit occupies 2,000 square metres and therefore nearly half of the entire space, KiK (non-food, textiles, decoration) and Pepco (non-food, decoration, furniture, textiles). The line-up will be supplemented by a Tedi branch (non-food) that is scheduled to open in the near future. In addition to its retail units, the new Vendo Park provides 120 parking spots.
Pepijn Morshuis, CEO of Trei Real Estate, commented: "We are pleased to report that we managed to open another Vendo Park on schedule. Our retail parks are designed to make the shopping process as simple, swift and safe as possible. This results in a considerably shortened length of stay. We have thereby responded to the increased safety-consciousness of customers, an aspect of particular significance during the ongoing coronavirus crisis."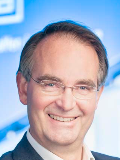 Pepijn Morshuis
CEO
Trei Real Estate
Pepijn Morshuis serves as CEO of Trei Real Estate since 2015. His responsibilities include the departments International Transactions, Asset Management and Development. Before joining Trei, he spent 19 years working for Dutch asset manager The IBUS Company, the last eleven years thereof as its CEO. At the time, IBUS was a globally active, independent real estate investment and asset management company. Before, he was Auditor at Arthur Andersen. Morshuis looks back on a total of 25 years of real estate experience and has been responsible for development and repositioning projects involving office, residential and retail properties in Europe, the United States and Asia.
More »
Aside from Poland, Trei uses the Vendo Park brand to plan, develop and manage retail parks in the Czech Republic and in Slovakia. Trei owns 27 Vendo Parks at the moment, thereof 17 in Poland. As it joins the existing Vendo Parks in Ostrołęka, Pułtusk, Kobyłka, Mińsk Mazowiecki and Milanówek, the retail park in Płock represents the sixth retail asset in the Strona 2 Masovian voivodeship. In addition to the Vendo Parks in Płock and Jawor, which opened in February, the company plans to open another five retail parks in Poland this year.