Last summer, Invesco Real Estate bought the Delta building, one of the phases of its multifunctional Hagibor project, from developer group Crestyl. The building is to include a total of 165 flats in layouts ranging from 1+kk to 4+kk for rental housing purposes. Construction started in Q4 of last year and is scheduled for completion in Q3 2024. Zeitgeist Asset Management will take care of the complete management of the project during construction, as well as the subsequent leasing and management of the apartments, the company announced.
"I am delighted that we have been able to convince such a renowned investor of our capabilities and know-how in providing institutional rental housing. We will now reflect our almost ten years of experience in the market into mutual cooperation," comments Peter Noack, co-founder and CEO of Zeitgeist Asset Management.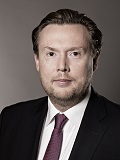 Peter Noack
Co-Founder and Managing Director
Zeitgeist Asset Management
Peter Noack is a co-founder of Zeitgeist Asset Management. Today Zeitgeist has 37 projects under management with a total investment volume of €424 million. Zeitgeist with offices in Prague, Warsaw and Berlin, is a real estate developer and asset manager for private and institutional investors in Germany and Central Eastern Europe. Prior to Zeitgeist, Peter worked in institutional real estate in Germany, Central Eastern Europe and Turkey for Hochtief Development and Rödl & Partner in Germany and the Czech Republic. He is registered as a licenced attorney at law in Germany and the Czech Republic and holds a Law degree from Goethe University in Frankfurt, Germany.
More »
Michal Nečas, Managing Director of Zeitgeist Asset Management, adds. It shows that in addition to our development and property management activities for 'captive' private and institutional investors, we are able to offer the same quality of service to other investment funds."
Tomáš Pícha, Director of Invesco Real Estate, says: "I am very pleased that we have been able to expand our investment portfolio with this residential project. Already in the preparatory phase, we approached Zeitgeist with the possibility of cooperation on the mutual development of the product to best meet the local requirements of future tenants. Our residential strategy is long-term. We believe this sector offers a great opportunity and has shown rapid rental growth over the last few quarters. Housing unaffordability and the current policy of high mortgage rates will lead to structural changes, so the rental housing sector will clearly be used much more than it has been. And since we want to develop our activities in this area, it was quite logical to approach one of the major players in this field."
Tomas Picha
Senior Director of Transactions in CEE
Invesco Real Estate
Tomas is a Senior Director of Transactions in Central & Eastern Europe at INVESCO REAL ESTATE and is based in Prague. IRE belongs to the largest independent global Fund Managers with more than USD 850 bln of assets under management and Tomas oversees their direct real estate investments in the Czech Republic, Poland and other Eastern markets where IRE has an allocation. Tomas acquired properties worth more than €1.750 billion in CEE for IRE-managed funds as well as Sachsenfonds where he worked as Head of Transactions for CEE and was responsible for building up the CE platform of closed-end funds. Graduated in the University of Economics in Prague and has more than 17 years of experience in real estate investments with focus on CEE markets.
More »
People can look forward to a wide mix of high-standard rental housing in the near future. They will be set in the Hagibor district, which is being built by developer Crestyl near Želivského metro station. Two international architectural studios, Bogle Architects and Ian Bryan Architects, have collaborated on the project. In addition to the rental phase, it also includes freehold and office apartments, but there is also a strong emphasis on public space. Its concept is led by Michel Desvigne, the most prominent landscape architect of our time. There will be a large park with 2,000 newly planted trees, a pedestrian boulevard with shops and restaurants, a playground and connections to the city's cycle paths.
The Hagibor Delta rental building will branch out from the 3rd floor into three towers. The largest and most luxurious apartments will be located on the top floor of tower "A", which reaches 11 storeys.
However, there will be a great view of Prague from the other apartments as well - this is guaranteed by the elevated location of Vinohrady, with which Hagibor is literally adjacent. Zeitgeist Asset Management is cooperating with Arkhe architectural studio on the interior design of the building. In addition to the choice of floor or layout, tenants will have a choice of two interior design options - light and dark. Some apartments will be equipped with a bathtub, others with a shower. Most of the apartments with 1 + kk and 2 + kk layouts will be fully furnished. The tenants of these flats will not have to worry about moving and will be able to start living in quality immediately.