CTP welcomes Serbia's leading electronics retailer, Tehnomanija, to Serbia's largest industrial park, CTPark Belgrade North. The company has leased a newly built, 20,000 sq, logistics warehouse to support the large-scale expansion of its e-commerce activities.
Leading Serbian electronics retailer Tehnomanija has moved into its new, 20,000 sqm warehouse at CTPark Belgrade North in November 2020. The e-commerce hub is expected to create approximately 201 new jobs in the region. "We have big plans with e-commerce and our current spaces are no longer sufficient for us," explains Vojin Milić, Supply Chain Director. "We appreciate the opportunity to lease an entire, newly built modern building ideally located between Serbia's two largest cities, which are also our largest markets. CTP will now be part of our growth."
CTPark Belgrade North, Serbia's largest industrial park, consists of three separate large-scale premium A-Class industrial spaces totalling 70,000 sqm and a total area of over 15 hectares. The park is strategically located on the A1 motorway between the Serbian capital, Belgrade, and the city of Novi Sad, adjacent to the Novi Banovci exit and approximately 20 minutes from the Belgrade city centre. "The position of CTPark Belgrade North ensures very good connection not only to Belgrade but to all cities in the region," explains Vlatko Djuricek, Head of CTP in Serbia. "This, together with modern facilities, makes it extremely suitable for first-mile logistics and production. Proximity to the two largest cities in the country brings great access to a large workforce with direct public transport."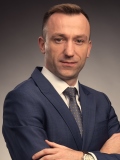 Vlatko Djuricek
Country Head of Serbia
CTP
Vlatko Djuricek has a Master degree in Civil Engineering in Construction Project Management from Belgrade University. In 2011, Djuricek started his professional carrier as a development and investment manager at Delta Agrar, part of Delta Holding, the biggest Serbian company. He has more than 8 years of experience in acquisition, investment and development working with leading international and biggest domestic real estate companies as Lidl at the position of Reginal Real Estate Manager and MPC Properties at the position of Head of Development and Acquisition. Vlatko Djuricek has been appointed as Country Head of CTP Invest Serbia at the end of 2017, ready to use his wide-ranged expertise in real estate. During this period, the Serbian portfolio is growing progressively and it is expecting to have its first 150.000 sqm in a short time. Vlatko Djuricek is also a member of the top 30 CTP management team.
More »