Colliers International is to manage the Graffit office building, located in the Warsaw's Mokotów district. Zeus Capital Management acquired the property in January 2019 and is managing it on behalf of a selected group of investors.
Graffit is a high-class, seven-storey office building with over 18,550 sqm (16,600 sqm of office space and 1,950 sqm retail). The investment is located at Domaniewska 28, which provides convenient connection with the city centre and with Warsaw Chopin Airport. The design of the office – covered by the Hines Green Office programme – was entirely based on pro-ecological concepts, which were later proven when Graffit received BREEAM certification at the level 'Very Good'. The building was put into operation in Q2 2018 and it fits perfectly into the business environment of Mokotów.
"We are proud that such a large and prestigious company as Zeus Capital Management trusted our experts' competences and delegated Colliers to manage their building. We hope that in the future this cooperation will be another example of a successful and long-lasting partnership," says Agnieszka Krzekotowska, director of Property Management Department, Colliers International.
"We are very happy to cooperate with Colliers regarding the property and facility management of our first investment in Warsaw. We believe that the Colliers team will help us provide Graffit tenants with quality services and the experience that Zeus has provided its tenants over the last 12 years in all the countries in which it operates", says Lila Pateraki, CIO Zeus Capital Management.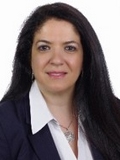 Lila Pateraki
Chief Investment Officer
Zeus Capital Management
Lila Pateraki has over 20 years of development, project and asset management experience internationally with blue-chip development companies. Prior to joining Zeus, Ms. Pateraki worked in Lamda Development Group, J&P Development (in Greece and Romania) and Turner Construction Corporation (in the U.S.). She carries a vast experience in all phases of real estate investments, having been involved in some of the largest, high profile development projects in the commercial, residential, industrial, tourism and marinas sector in Greece, U.S.A. U.A.E and South Eastern Europe. She holds an MBA from Columbia Business School in New York and an MS in Civil Engineering from the National Polytechnic in Athens.
More »