VGP announces the start of development of its new multitenant business park in Brașov, Central Romania. With the groundworks started beginning of November, the first building with a surface of 9,400 sqm is planned to be delivered mid-2021 and will be partly occupied by pharmaceutical company Fildas Trading Srl. VGP Park Brașov is being developed on a land plot of approx. 390,000 sqm and will have a total potential of about 180,000 sqm lettable area.
The park is located within the Brașov ring road with direct access to the park from the E68 motorway towards Sibiu and in very close proximity to the connection with the future A3 highway Bucharest-Brașov-Sibiu. The site also benefits from direct access to the city public bus transport network. Furthermore, the new airport of Brașov located nearby being in its final stages of construction will offer connections to major cities across Europe.
Fildas Trading Srl will be the first tenant in VGP Park Brașov and will move into a full temperature-controlled warehouse with adjacent offices with a total area of approx. 4,000 sqm. The company's affiliated pharmacy network Catena is one of the market leaders. VGP was advised in the transaction by Cushman & Wakefield Echinox.
"We are very pleased to have kicked off the works on VGP Park Brașov and be able to offer our clients first-class logistics real estate at this real top location. Once completed the park will be one of our largest parks in the Romanian portfolio. It is with great joy that we can announce that our new park has been endorsed by a leading player on the pharmaceutical distribution market, Fildas Trading Srl, the first tenant in the park. The cooperation with the Fildas team runs very smoothly and we look forward to an extensive and long-lasting partnership with the group," Adrian Crizbasianu, Country Manager at VGP Romania stated.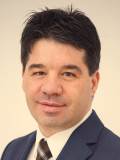 Adrian Crizbasianu
Country Manager
VGP Romania
Adrian is part of the VGP management team as Country Manager Romania. In this role he is carrying out an accelerated development of Romanian operations with a short term goal of extending VGP presence nationwide. Adrian has extensive transport & logistics experience having worked for over 15 years with DB Schenker in Romania in various management positions and acting in the last 7 years as COO & member of the board of management. He was an active part of the making of a market leader in the field in Romania, having been also directly involved in developing contract logistics – SCM division of Schenker as well as running a major project of re-shaping & securing the future for the port Constanta Schenker terminal operations.
More »
VGP Park Brașov will meet the standards of sustainable construction solutions. All halls will undergo the BREEAM "Very Good" certification process which evaluates the implemented green solutions, such as the preparation of roofs for solar panels.
VGP Romania, a subsidiary of the VGP-group with a long-standing presence in Romania since 2007, owns presently active parks in Timișoara and Sibiu as well as significant land bank secured for developments in Bucharest, Arad and now Brașov. The VGP Group has a total of 72 parks located in twelve European countries and is on a path of expansion in all of its markets.