MHP Consulting Romania and Speedwell are proud to announce the signing of a new leasing agreement for a 5300 sqm office space in Record Park, a mixed-use project developed by Speedwell in Cluj-Napoca. The transaction was managed by Griffes, the broker entrusted with the commercial strategy and leasing for Record Park since the design stage of the mixed-use development.
"We are happy to have concluded our discussions with MHP Consulting Romania, being able to support our client's development plans on the medium and long term by offering a high-quality working environment completed by the additional features of our Record Park project. Our concept differentiates itself through the location in a very central area of the city, the aesthetics of the design and the various components including office, residential, retail and sports facilities. All of these attributes are being mixed in a development recipe which has proved to be very attractive for the market." says Didier Balcaen, the General Manager of Speedwell.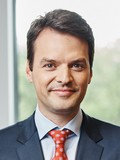 Didier Balcaen
General Manager
Speedwell
Specialized in project and financial management, Mr Didier Balcaen has over 20 years of experience in the international construction and real estate market, out of which 11 in Romania. He is a Belgian National, who, after 5 years of contracting experience in Belgium, explored part of the world for the next 5 years as an expat project manager in U.A.E, Singapore, Saudi-Arabia, Indonesia, Qatar and Mauritius. After returning from his exotic travels, he fulfilled the role of Chief Operations Officer in real estate development in Poland, Russia and Romania until founding Speedwell in 2015. He is the founder and CEO of Speedwell SRL, a full-service real estate development company with a focus on medium to large scale offices, retail and residential projects in Romania.
More »
"This lease marks a major milestone in Griffes' track record; we believe in the positioning of Record Park and its creative mix of facilities and we aim to deliver the first 100% pre-leased office project in a regional city outside Bucharest", says Andreea Paun, Managing Partner of Griffes.
Andreea Paun
Managing Partner
Griffes
With over 10 years' experience in real estate and a solid marketing background, Andreea Paun is focused on successful office transactions that generate revenues for Landlords and satisfaction for Tenants. In 2016, she founded Griffes, the only local consultancy company specialized in services for Landlords. Griffes' team is offering full representation in strategy, negotiation and closing office leasing contracts, pricing, positioning and communication of the property. Among the top clients Andreea attracted in Griffes' portfolio there is Unirii View, an 18,000 sqm office tower in central Bucharest, pre-leased over 50% during construction and Record Park in Cluj-Napoca, a 12,000 sqm office and recreational space. Tenants that have completed relocation or consolidation processes with Griffes are Wipro Technologies, NTT Data Romania, PayPoint Romania, Pole to Win International, Bandai Namco Entertainment etc.
More »
With this new addition, Speedwell increased the occupancy level in the 12,000 sqm office building. On the residential side, 80% of 236 apartments have been reserved, and the World Class fitness club has recently opened its new premises in the project.
Founded by 2 Belgian nationals, Jan Demeyere and Didier Balcaen, Speedwell has a consistent portfolio of real estate projects finalized or under construction, in Bucharest, Cluj-Napoca and Timisoara, focusing on locations in central areas with good transport infrastructure, targeting the middle and upper-middle segments of the real estate market.