Penta Real Estate has sold the Churchill Square office complex near Prague's main railway station for more than €150 million (CZK 4 billion) to Českomoravská Nemovitostní and Corporate Finance House Group. This is the largest office transaction on the Czech investment market this year. The acquisition was financed by German bank Helaba.
Penta Real Estate launched this brownfield project in 2017. The Churchill Square project comprises two office buildings and one residential building – the latter built by SUDOP. The first office building became Deloitte's new headquarters at the beginning of 2019 and the second building was handed over to majority tenant Fortuna Entertainment Group in June 2020. The office buildings are complemented by retail space and services on the ground floor.
"Originally, we did not intend to sell our buildings in the centre of Prague. However, despite the COVID-19 pandemic, activity on the real estate market and the interest of investors in acquiring high-quality real estate has not stopped, which was a strong argument for us to sell," said Pavel Streblov, Business Director CRE at Penta Real Estate, adding: "It is clear that the renowned investors have confidence in investing into high-quality architecture in a premium location in Prague."
Pavel Streblov
Business Director CRE
Penta Real Estate
Pavel is responsible for all office building projects by Penta Real Estate in the Czech Republic, including the revitalization of the Masaryk Station (Masarykovo nádraží). He joined Penta as an experienced real estate manager in 2012. In the past, he was a partner in the 3C real estate private equity fund and an advisor of financial institutions and the Ministry of Finance and he also worked for the bond division of JP Morgan in London.
More »
The real estate company ČMN in a joint venture with CFH won the competition against offers from investors from Germany, Austria and the United States, with a price that exceeded CZK 4 billion. Both companies have had a common business history in Prague, including investments into office buildings City West C1 and C2 in Prague 5, the Crystal building in Vinohrady, and BLOX in Prague 6.
"Churchill Square's quality and location perfectly fit our strategy, which focused on premium office buildings in Prague," said Radek Stacha, Chairman of the Board of Directors at ČMN, adding: "By purchasing this office complex, we have reinforced our market position, becoming one of the 10 biggest office building owners in Prague."
For CFH, this has been the fourth investment in Prague since 2016. Karim Chams Eddine, CEO at CFH, highlighted the company's long-term commitment to the Prague real estate marketing, adding: "We are delighted that we are closing the acquisition of the Churchill Square office building complex with partners from ČMN."
Helaba is providing a loan of more than €100 million to finance the acquisition. "We are proud to be a reliable financing partner for ČMN and CFH, even in these challenging times. That is why we are particularly delighted to have been entrusted with the financing of this superbly-located, prime office complex that has been let to first-class tenants," added Martin Erbe, Head of Real Estate Finance Continental Europe at Helaba.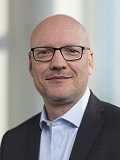 Martin Erbe
Head of International Real Estate Finance Continental Europe
Helaba
Martin Erbe is Head of International Real Estate Finance for Continental Europe at Helaba Landesbank Hesse-Thuringia which belongs to the German savings bank network. Based at the bank's Frankfurt headquarter he manages the origination for Central Europe and Benelux. Martin Erbe has worked on a wide range of financing transactions in the past and has more than 21 years of real estate experience in the European markets. Helaba currently manages a loan book of around EUR 35 bn in commercial real estate, almost half of this amount representing the bank's international business in Europe and the US. Helaba's relationship-oriented strategy remained unchanged during the crisis and is consistently directed towards its target markets.
More »