Panattoni will build a new hall for Hanon Systems, a Korean manufacturer of parts for air conditioning and cooling systems for cars, in the Kladno-South industrial zone. The entire existing site with the existing hall will also undergo modifications.
In the Kladno-South industrial zone, Panattoni will renovate the existing site and build a new production area of more than 20,000 sqm, which Hanon Systems will use to expand its production for new customers. Construction of the facility, which began over the summer, will aim to achieve an Excellent rating under the BREEAM New Construction sustainable building certification.
"We are starting the construction of a new hall in the Kladno-South industrial zone for a manufacturer that already operates one hall in the area. The project proves that our company can prepare tailor-made solutions for our clients, as we are expanding the existing established production with a new production hall and at the same time modernising the older building to meet the most stringent sustainability criteria of today. In addition, production will run uninterrupted during the construction period. I believe that this construction will contribute to the overall economic recovery of the region and build on the industrial history of Kladno," says Pavel Sovička, Panattoni's General Manager for the Czech Republic and Slovakia.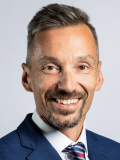 Pavel Sovička
Managing Director CZ & SK
Panattoni
Pavel Sovička has 24 years of experience in industrial development in the Czech Republic, Slovakia and Hungary. He has been involved in transactions representing a total of more than 2,500,000 sqm of leased and sold space. Some of the most significant projects under his leadership include the construction of fulfilment centres for Amazon in Dobrovíz (120,000 sqm) and Kojetin (187,000 sqm) or the construction of a distribution centre for Tchibo in Cheb (102,200 sqm). In 2022, he won the "Gryf" award for Logistics Personality of the Year in the Czech Republic.
More »
Hanon Systems Thermal Technologies issued a tender for this project in February 2022 due to growth in the electromobility sector and expansion of existing production for new customers. Negotiations and project preparation took approximately 14 months and Panattoni started construction work in July this year.
The project is specific in that it is two transactions in one. Improvements will be made to the original hall, primarily aimed at making the building more energy efficient. At the same time, however, the construction of a completely new hall will take place, which the tenant should take over next summer when production should also start. Production operations in the existing hall will remain uninterrupted during the refurbishment. The entire project is designed in accordance with the high standards of a modern and sustainable industrial building. The hall will include heat pumps, a photovoltaic power plant and a solution for stormwater management.