Yitzhak Hagag, Co-Founder and Shareholder of Hagag Development Europe, talked to Property Forum about the expansion of the company's €300 million portfolio focused on residential and offices in Bucharest and the development plans for the emerging hotel division. The developer is looking to increase its presence across Romania and plans to expand in other European markets in the long term.
This interview was first published in Property Forum's annual listing of "The 50 most influential people on Romania's real estate market".
What is the development image of Hagag Development Europe in Romania in terms of the value of ongoing investments?
We are one of the most stable and trustworthy investor-developers in Bucharest, and this is due not only to our almost 20 years of experience in the industry but also to our long-term vision and commitment. More than giving a second chance to some old, dusty buildings in the city centre – most of which are in an advanced state of degradation, we are returning to the capital city a piece of its historical and cultural identity. At the same time, we are bringing back to the public attention the elegance and extraordinary architecture of the past century, yet adapted to the trends and needs of the modern world.
When talking about greenfield projects, we are developing in emerging areas such as Pipera, where we are practically laying the foundations of a new neighbourhood – the Aviației-Pipera neighbourhood. Also, we are bringing a new vibe to the Primăverii area by developing two upper-premium projects here – H Eliade 9 and H Primăverii 1, which is certainly a plus for a city like Bucharest, much too suffocated by communist residential buildings. Furthermore, with the recent expansion of our company, the market value of our portfolio, as completed, has increased over the past six months from €200 million to over €300 million.
I am happy to see that our projects are recognised not only for the prestige they bring to the market and the innovative approach but also for their functionality. In the office segment, for example, we have many tenants who have chosen to pedal to the office or even take a scooter, and who appreciate the project's proximity to public institutions and the lunch breaks or business meetings on Calea Victoriei.
We are creating new living and working standards and, just as importantly, consolidating the touristic image of the city.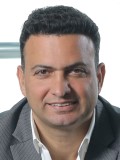 Yitzhak Hagag
Co-Founder and Shareholder
Hagag Development Europe
Yitzhak Tzachi Hagag is one of the shareholders of Hagag Development Europe, as well as the Chairman and Co-Founder of Israeli-based Hagag Group, a company founded in 2003. He holds a bachelor's degree in Law & Administration, and a master's degree in Law, and has been active in the real estate developments market for 18 years. Hagag Group became a stock exchange company in 2010 and is specialized in project development, management, and marketing, having an immense track-record, and an experienced team of professionals working in the residential & commercial field. Hagag Group Israel develops a wide range of luxury real estate properties, offering various financing options as well as maintenance and management services, at high-quality standards and competitive market prices. Yitzhak's flair for niche real estate developments drove his attention towards a new, emerging market in Europe, where he identified an extraordinary potential. As a result, in 2015, Hagag Development Europe entered the Romanian market and soon became one of the most prominent players of the local real estate sector.
More »
Will you continue to focus on central Bucharest in terms of acquisitions?
Of course. We have recently announced the purchase of an old office building located on Vasile Lascar Street, just 400 meters away from Universității Square, and we are currently looking into several other centrally located assets. Bucharest has a lot of potential, especially if we consider the city centre, which abounds in iconic properties that have their own personality and an imposing architecture. Moreover, right from the first contact with the Romanian market, we have decided to further explore and grow this niche segment of urban renewal through the reconversion of old buildings with historical, cultural and heritage value.
I believe that it is exactly our investment and development policies that differentiate us from the other players on the market. As we see it, our projects reflect the essence of our developer brand. At the same time, we have managed to set a precedent in the industry and today we can also see other competitors turning their attention to such buildings.
Hagag Development Europe completed its first hotel acquisition in Predeal last year. Do you plan to add new projects in the hospitality industry?
Yes. It is a segment in which we believe, and I am convinced that given our know-how and expertise we can bring added value to it, as well. With the same interest and enthusiasm with which we invest in the residential and office segments, we will also invest in expanding the asset portfolio that will serve the hospitality industry. Therefore, our aim is to expand our hotel division in the following two years, both in Bucharest and across other cities in Romania, with our attention being focused on emblematic properties with privileged positioning.
After the completion of your first transaction outside Bucharest, do you plan to start new investments in cities with potential across Romania?
In the long run, our intention is to expand both across Romania and across other European countries. We are planning new investments in the country while looking at some very interesting European metropolises.
How do you manage the financing of projects developed in Romania and are you facing any challenges from this perspective?
If we look at what happens nationwide, the overall lending volumes have decreased considerably over the past couple of years, since the beginning of the pandemic, and especially when it comes to financing office projects. Concurrently, with the escalation of the unfortunate events in Ukraine, this financial tension is being felt by residential developers as well, to the extent that it has become not only extremely difficult to obtain financing, but the conditions imposed by most banks are absolutely draconic. As far as we are concerned, the fact that we are a financially stable company with the know-how and experience to see beyond temporary market fluctuations, together with the fact that Hagag Development Europe is a company listed on the Tel Aviv Stock Exchange are our undisputed assets. As a consequence, even during this uncertain period, we managed to add new investments to our property portfolio and expand not only our presence in the country but also our team. I also see it as very important to point out that we possess the necessary resources to complete all our ongoing projects.
Is the increased inflation environment accelerating the acquisition decision for residential units in your portfolio?
To a certain extent, yes. We anticipate that investments in residential units, and therefore the demand, will remain positive in the short term and may moderate slightly for the rest of the projection horizon.
Has the Ukraine crisis influenced in any way your residential sales?
Despite the difficult political and economic context, and the tense conflict happening in the neighbouring country, I believe that we will continue to see a significant appetite for the purchase of residential units, especially coming from investors with medium to high incomes who desire to safeguard their capital by placing it into a secure asset. In recent months, we have had many requests from Ukrainian and Moldavian clients, and we see a possibility for this volume to further increase, especially if a de-escalation of the Russian-Ukrainian conflict will not happen soon.
In what locations are the land plots in your portfolio where you could develop new projects?
When it comes to urban renewal projects, we will remain focused on central areas, while for new developments we are staying in the northern part of the city. Along these lines, in addition to the almost 6-hectare land plot on which we are developing H Pipera Lake, we also own an additional parcel near the complex where we will build a commercial area, another plot of land near Pipera forest and the over 1,300 square meters plot of land on 1 Primăverii boulevard, which is going to host H Primăverii 1.