CTP is building a new turbine factory for BMTS at CTPark Novi Sad which will be handed over in April 2020. A considerable part of the facility will be equipped with all the necessary features for R&D activities.
The facility will have a total area of 24,350 sqm, CTP will directly invest over €15 million in the facility and the land, and the planned value of the production equipment is around €35 million.
"As you can see, the construction is going very well, and the opening of one of the most modern factories in Serbia is planned for April 2020. CTP will always try to support every project of BMTS in Novi Sad and anywhere in Serbia. Our company invested more than €13 million in this project and I truly hope that this is just the beginning of a long-term cooperation. Novi Sad is the third city where we are successfully developing Class A industrial parks," Vlatko Djuricek, Country Head of Serbia at CTP said.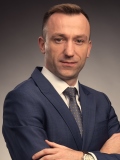 Vlatko Djuricek
Country Head of Serbia
CTP
Vlatko Djuricek has a Master degree in Civil Engineering in Construction Project Management from Belgrade University. In 2011, Djuricek started his professional carrier as a development and investment manager at Delta Agrar, part of Delta Holding, the biggest Serbian company. He has more than 8 years of experience in acquisition, investment and development working with leading international and biggest domestic real estate companies as Lidl at the position of Reginal Real Estate Manager and MPC Properties at the position of Head of Development and Acquisition. Vlatko Djuricek has been appointed as Country Head of CTP Invest Serbia at the end of 2017, ready to use his wide-ranged expertise in real estate. During this period, the Serbian portfolio is growing progressively and it is expecting to have its first 150.000 sqm in a short time. Vlatko Djuricek is also a member of the top 30 CTP management team.
More »