Colliers has taken over the management of the second office building of the Moje Miejsce complex at 3 Dziekońskiego street in Warsaw's Mokotów district. The project was developed by Echo Investment.
The newly constructed building offers 17,000 sqm, of which 15,300 sqm are intended for offices and 1,700 sqm for commercial premises. The building's users have 181 undeground and 36 above-ground parking spaces at their disposal. The office building, designed by JEMS Architekci, is equipped with modern technologies, including Building Management System.
Moje Miejsce is a mixed-use development consisting of two A-class office buildings with a total area of over 36,000 sqm and five residential buildings offering 243 apartments. The first of the office buildings was commissioned in May 2019 and is also managed by Colliers.
The complex is located between Beethovena street and Witosa avenue. There are numerous bus stops and bicycle paths in the vicinity.
"Choosing Colliers as the manager of the next phase of the Moje Miejsce investment is the best confirmation that our commitment and quality of our services are appreciated by such a prestigious developer as Echo Investment. As a multifunctional project, Moje Miejsce will certainly become one of the most important points on the map of Warsaw, as this type of real estate has recently been gaining in popularity, both among developers and tenants. It also brings a number of benefits to the local community, which gains a new place to work, live, shop and spend free time", says Agnieszka Krzekotowska, Partner and Director of Property Management at Colliers.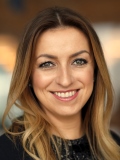 Agnieszka Krzekotowska
Partner, Head of PM
Colliers International (Board Member, RICS in Poland)
As the director of Real Estate Management Services, Agnieszka leads a team of over 95 experienced professionals and supervises the portfolio of real estate managed by Colliers in Warsaw and regional cities in Poland. Her duties include the development of the property management business, including the acquisition of new projects and searching for technologies and solutions to expand the company's current range of services. As a partner, Agnieszka is also responsible for co-creating the company's strategy. Agnieszka joined Colliers International in 2009. She has over 14 years of experience in the commercial real estate market, confirmed by cooperation with the largest funds operating on the Polish market. Agnieszka is a member of the prestigious Royal Institution of Chartered Surveyors and Advisory Board Member of RICS in Poland. She is a graduate of the Leadership Academy for Poland.
More »