CBRE has established a new regional office to provide a full range of real estate advisory services to international and domestic clients in South Eastern Europe (SEE).
The new fully-owned CBRE operation based in Belgrade will be led by Andrew Peirson who has been working in the region since 2005. He joins from JLL where he was overseeing their South Eastern European business and held previous roles in the UK, Czech Republic, and Romania. The new regional office will cover key markets including Slovenia, Croatia, Serbia, Bulgaria, Montenegro, Macedonia, Bosnia & Hercegovina, and Albania.
The already 30+ strong CBRE team will provide services including Investment Properties led by Uros Grujic, Advisory & Transaction led by Bosko Tomasevic, Valuation & Advisory led by Nebojsa Nesovanovic, and Building Consultancy led by Milan Sovilj.
Andreas Ridder, Managing Director of Central & Eastern Europe at CBRE, who will oversee the new region, said: "Our new SEE team will complement our strong presence and expertise in the rest of the CEE region where we have more than 1,700 employees in fully-owned offices. The SEE economies are performing strongly and we see scope for significant growth in the region's real estate markets which are increasingly attractive targets for local and overseas investment."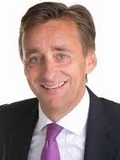 Andreas Ridder
Chairman CEE
CBRE
Andreas is Chairman Central & Eastern Europe, CBRE. He manages and coordinates CBRE offices in the region. Andreas has extensive real estate knowledge, particularly in the investment market. He combines this experience with a particular focus on every client's business needs. Prior to joining CBRE, Andreas worked for Bank Austria/Creditanstalt. He was involved in the bank's real estate investments and real estate development projects in Austria. Andreas joined CBRE in 1991 as Managing Director of the newly founded office in Austria. In this role, he has first established the Vienna office and later the CBRE network in Central and Eastern Europe.
More »