The America House office building in central Bucharest was refurbished as part of a €10 million investment that included the upgrading of the exterior ground floor area and the extension of green spaces.
Around 1,800 sqm of unused space on the first floor was turned into offices as part of the project that was coordinated by AMA Design studio. Fortim Trusted Advisors also oversaw the refurbishment as property manager.
"America House is proudly presenting its new look: the stylish reception, the high-tech facilities, and the cosmopolite pedestrian area, following 1.5 years of intense refurbishment," said David Hay, founder, and CEO of ADD Value Management, the asset management company of America House. The lifts and security systems were also upgraded in this period.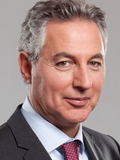 David Hay
Founder and CEO
ADD Value Management
David Hay is the Founder and CEO of ADD Value Management SRL (AVM). AVM provides in-house services for international investors covering portfolio management, financial management, asset management, property management and development management focusing on Romania and Poland. David has a real estate experience of more than 30 years, spreading over Europe, the U.S., Africa and Israel. He has been the CEO of AFI Europe from 2011 until 2018 and has held leadership positions within AFI Europe Group for more than 12 years. David holds an LLM from Buckingham University.
More »
America House has 28,806 sqm of office space and commercial areas spanning 3,675 sqm. The project's mix of tenants includes financial and technology corporations as well as local firms.