YIT has completed the Koti Libeň residential project in Prague 8, which includes 140 apartments, two studios and one commercial space. The last apartment is currently available for purchase. YIT announced that new residents will be able to move in in the second quarter of this year.
The newly completed Koti Libeň project is located between Červená báň and Františka Kadlece streets in Prague's Libeň district. In three apartment buildings with four to five floors and one common underground floor, YIT built a total of 140 units with layouts ranging from 1 + kk to 5 + kk, with an area of 24 to 114 sqm. Most of them have a private balcony, terrace or front garden, which are situated in a semi-closed U-shaped block. The project includes cellars and basements, carriage houses, a room for washing bicycles and dogs, underground garages and plenty of green space. The developer has also built a retention tank to catch rainwater.
"We are pleased that despite the difficult situation last year when the market was significantly struggling with a shortage of building materials and labour, we managed to get the Koti Libeň project approved a few months earlier than originally planned. Now the finishing works will only be carried out and we believe that the residents will be happy to live here thanks to the high-quality design, plenty of greenery in the close vicinity and a quiet family atmosphere," says Dana Bartoňová, YIT Stavo's Sales Director.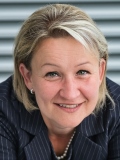 Dana Bartoňová
Sales Director
YIT Stavo
Dana Bartoňová has been working at YIT Stavo almost from the very beginning of the company's operation in the Czech market. She has extensive experience in managing the acquisition of residential and commercial projects, their development and subsequent marketing and sales. Prior to YIT, she was involved in the entry of the banking fund of the Israeli bank Poalim into the Czech and Slovak markets. She worked at King Sturge and subsequently held the position of Marketing & Sales Director of the Dutch property development company SHIRAN R/E Holdings. She studied Estate Management at the University of Reading.
More »