The Greenline office building, located in the heart of the Prague 4 business district, has been purchased by WOOD & Company from property developer Karimpol International. WOOD & Company's real estate funds invest in commercial real estate (office buildings and shopping centres), and are among the best-performing funds in the market. With the acquisition of The Greenline, the market value of the fund's assets has exceeded €500 million.
The building offers 15,500 sqm of leasable space and is fully occupied. The building has been awarded the LEED Gold certificate for its environmentally-friendly approach. It utilises a number of modern technologies, for example, it offers tenants charging stations for electric and hybrid vehicles and complete equipment for cyclists. On the top floors it has two green terraces, with views of Prague. A restaurant, modern cafes, rest areas are also available.
"The Greenline office building, which was completed in 2015, is leased by leading companies such as SCS Software, Huawei Technologies, Nordic Telecom 5G and Kia Motors Czech," said Jiří Linhart, Project and Marketing Director of Karimpol International, "The building is fully occupied, in excellent technical condition and perfectly complements the growing real estate portfolio of the WOOD & Company investment group."
Greenline Kačerov is the eighth building in the WOOD & Company real estate Fund's portfolio. In addition to four office buildings in Bratislava (Aupark Tower, Westend Tower, Lakeside Park and BBC 5), it also owns the Hadovka Office Park and two shopping centres (Harfa Gallery and Krakov Center) in Prague. "We are pleased that we have managed to acquire another high-quality asset for the Fund, in an excellent location," said Vladimír Jaroš, CEO of WOOD & Company. "New and existing tenants will now be taken care of by our experienced team, which will strive to develop the building further and improve the quality of services provided. One of our long-term strategic goals is to ensure sufficient geographic diversification in our real estate portfolio, and we hope to announce other, very interesting, transactions next year."
The price of the transaction has not been disclosed by mutual agreement. It was arranged by real estate consulting company Colliers International. The transaction was advised by Dentons; commercial and technical consultancy was provided by Savills and KPMG advised on financial and tax consultancy. On the seller's side, CMS Cameron McKenna advised, along with Nabarro Olswang (legal) and Grant Thornton Tax & Accounting (financial).
"We have been working with Karimpol International on a long-term basis," said Tewfik Sabongui, Managing Partner of Colliers International, "and are pleased to have found a significant investor for The Greenline, in a company like WOOD & Company, and to link the business interests of both companies."
"This transaction confirms that Czech investors are able to acquire increasingly-large institutional investment market assets for their real estate portfolios," commented Andy Thompson, Colliers International's Investment Director for the Czech and Slovak Republics. "This is the third transaction of this type that we have mediated for Czech investors this year."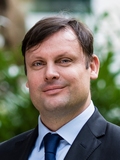 Andy Thompson
Head of Investment Czech Republic & Slovakia
Colliers International
Andy joined Colliers International in 2015 as Director and Head of Investment Services and has been the firm to establish itself as the leading investment consultancy business in the Czech & Slovak Republics. Andy graduated from the University of Aberdeen with a Masters Degree in Land Economy and is a member of RICS. Andy's scope of responsibilities includes the structuring and execution of property asset sales and acquisitions, both buy & sell-side commercial due diligence and advisory, commercial negotiations of sales and purchase contracts and supplementary transactional documentation as well as transaction co-ordination. Andy differentiates his services through exceptional client care and attention to detail ensuring the best terms for his clients.
More »