Specializing in ESG policy and operational cost optimization, Westbridge Advisory has opened its new headquarters in the capital city of Poland in April 2022. Danuta Grzywacz has been entrusted with the duties of director of the headquarters located at 1 Rondo ONZ. As Country Head for Poland, she will report directly to the Managing Director of Westbridge Advisory International AG, who is Hajo Engelke. From now on. the expertise of Westbridge is available locally to investors and asset managers operating in the Polish real estate market.
The international division of Westbridge is now represented in Europe by two branches outside Germany: the already existing office in Zurich and a newly established branch in Warsaw. In this way, the company wants to strengthen its position as a leader in sustainability and energy efficiency consulting in the commercial real estate sector.
After graduating in finance and management, Danuta Grzywacz started as a Senior Sales Specialist at BPH Bank in 2002. Four years later she moved to Raiffeisen Bank Polska. She then changed positions several times, managing sales teams and gaining experience in digital transformation, among others, as Business Development Manager at Econocom. While working in Warsaw's Jones Lang Lasalle (JLL) as a director responsible for Sales Management and Clients Growth, she became interested in the topic of sustainable development in the commercial real estate industry. It was an impulse for her to deepen her knowledge in the field of net-zero energy and to join the ESG specialist Westbridge.
Danuta Grzywacz declares: "Our goal is to significantly increase the level of awareness in Poland of the importance of ESG and to strengthen Westbridge's position as a strategic and operational expert in this field. In doing so, we will strive to further expand our existing mandates in Poland and at the same time extend the circle of our regular clients with important players in the commercial real estate sector".
"The opening of our representative office in Poland gives new impetus to the growth of our company on a European scale. The new office in Warsaw will allow us to enter this very important market for us and intensify the support we provide thanks to greater customer proximity", explains Hajo Engelke, Managing Director at Westbridge. "We are delighted to have such a proven expert as Danuta joining our company. With her extensive experience, she will be a great addition to our team. Danuta will help strengthen our position in the Polish market and support our clients on their path to climate neutrality."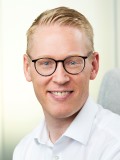 Hajo Engelke
Managing Director
Westbridge Advisory International
Hajo Engelke is the Managing Director of Zürich-based Westbridge Advisory International AG. The company is supporting institutional real estate investors in optimizing the operating expenses of their European assets with a focus on energy procurement, capturing relevant data to identify the annual electricity and natural gas consumption and corresponding carbon footprint for ESG-reporting.
More »