Investment into the European logistics real estate market remained strong in Q1 2022 and experienced a y-o-y growth of 19.6%. The growth of 28% above the five years average has experienced the leased warehouse space. The biggest change occupiers anticipate as a result of the pandemic is the shortening, or reshoring, of supply chains to mitigate risk. Also, the war in Ukraine and China´s lockdowns has driven the demand to record levels, indicates Savills in their last European Logistics Outlook published today.
Investment into the European logistics sector has again remained strong so far in 2022, reaching €14.3 billion in the first quarter, following a record year in 2021 (€11.5 billion). The largest investment volumes have been observed in Germany (€4.1 billion), outperforming the UK (€2.9 billion), and altogether accounting for almost 50% of total European activity in the first quarter. The Netherlands (€2.0 billion) and France (€1.1 billion) also recorded strong levels of investment in Q1 2022.
Key findings:
Q1 this year has seen €14.3 billion invested into European logistics, up 19.6% y-o-y
Vacancy rates continue to fall even further this year, to an all-time low Eurozone average of 3.3%
"The main drivers behind the sector's stellar growth continue to be the post pandemic e-commerce boom across the continent and, more recently, in light of geopolitical crises, the race for additional warehouse space to secure international company supply chains," comments Marcus de Minckwitz, Head of Industrial & Logistics, Savills EMEA.
With 10 million sqm of warehouse space leased across Europe in Q1, take-up is 28% above the five-year average and Germany (2.4m sqm), the Netherlands (2.2m sqm), Poland (1.5m sqm) and the UK (1.3m sqm) have driven the majority of leasing activity so far this year.
Savills European Logistics Census 2021 indicated that the biggest change occupiers anticipate as a result of the pandemic is the shortening, or reshoring, of supply chains to mitigate risk. The supply chain challenges resulting from the war in Ukraine and China's latest lockdowns have further driven demand to record levels in Poland, for example, where leasing activity has reached an all-time high this quarter.
Following a record decline in vacancy rates in 2021, undersupply across the continent will also continue to reinforce investor appetite for industrial assets, says Savills. Dublin (1.1%), Denmark (1.5%), Barcelona (1.7%), Czech Republic (2.0%), the UK (2.7%) and the Netherlands (3.2%) continue to be among some of the most undersupplied markets.
Chris LaRue, Head of Industrial Agency, Savills CZ&SK, adds: "Due to the extremely low vacancy levels, the speed of delivery and availability of land will dictate the market balance. However, ongoing effecting supply chain disruptions and scarcity of some key materials are already affecting new developments and delivery timeframes are delayed in most cases by 3-6 months. Tenants interested in new construction are advised to start searching for their new location at least 16-24 months in advance of their required occupation date." In a similar manner to 2021, this unprecedented shortage of prime stock has applied upwards pressure on prime rents, with an average increase of 5.9% recorded over the past 12 months.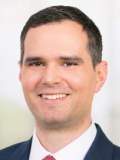 Christopher LaRue
Head of Industrial Agency
Savills Czech & Slovak Republics
Christopher LaRue has 15 years of experience in the real estate and industrial sector, including more than ten years on the agency side and nearly five years in manufacturing and e-commerce. Chris joins Savills from US technical power solutions firm, where he was operations and international sales manager. Amongst others, he was responsible for the European distribution centre in Prague and for the company's international sales performance in EMEA and APAC. Before that, Chris was an associate partner in the industrial team of an international real estate company, also based in Prague.
More »
The weight of capital still targeting European logistics has compressed average prime yields by 23bps to 4.08% in the last six months, says Savills. Sweden hardened by 65bps, Finland and Italy by 40bps and 35bps respectively. Belgium, Czech Republic, Denmark, France and Norway hardened by 25bps. Germany hardened by 20bps and the Netherlands by 10bps. The UK, Ireland and Portugal were the only markets to remain stable.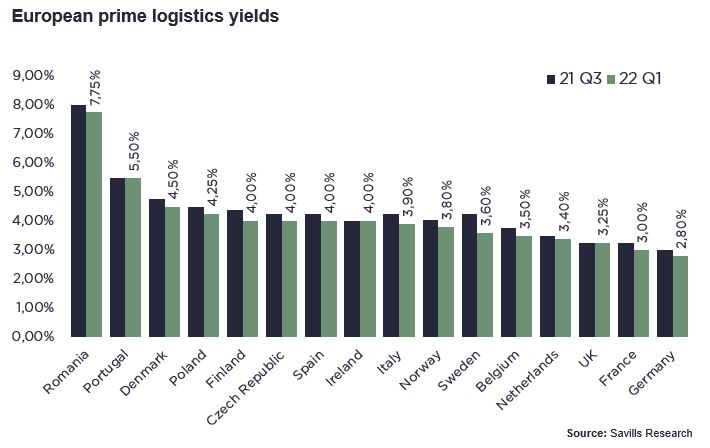 "That being said, rising debt costs have meant that prime yields in core markets have reached their nadir point, and some softening is to be expected as buyers look to manage the impact of higher costs," says Marcus de Minckwitz. "The strong performing occupational markets are however helping to offset some of these and, in reality, the amount of capital still being allocated to the sector, as well as the new funds being raised, will likely ensure any outward pressure on yields will be kept in check by the levels of demand."
For those investors still seeking product in key markets, Savills has recorded that there have been strong levels of European development in Q1 2022, with Poland's logistics stock increasing by 16.5% y-o-y, and Madrid (11.6%), the Netherlands (8.8%) and the UK (5.5%) all observing strong levels of deliveries over the previous year.
Kevin Mofid, Head of Industrial & Logistics Research, Savills EMEA, concludes: "Our outlook is still extremely positive for the year ahead. All of the metrics looking at the occupational market remain strong with vacancy trending downward and take-up trending upwards. Compared with other sectors, the fundamentals around logistics remain strong. With this in mind, we anticipate logistics investment transactions in the region of €60 billion to be completed this year, comparable to last year's record-setting €62 billion."