The Roztyly Plaza office building in Prague 11 has progressed to the above-ground construction phase. Completion is planned for 2024, yet more than half of the offices are already leased, developer Passerinvest announced.
The new Roztyly Plaza office building, which is going up in Prague 11 right next to the Roztyly metro station, has advanced to the next phase of construction. Construction work is now underway on the above-ground floors. The seven-storey building will offer 21,700 sqm of office space for rent, as well as commercial units on the ground floor, a modern canteen, grocery, pharmacy and drugstore. This will be followed by the redevelopment of the immediate surroundings as well as the modernisation of the adjacent suburban bus terminal and the replacement of the asphalt with a Prague mosaic allowing, among other things, the soaking up of water. The architectural design of the building was created by Aulík Fišer architekti, and the investor of the project is Koncern Passerinvest.
The seven-storey Roztyly Plaza office building was chosen by the Czech computer game development company SCS Software s.r.o. as its future headquarters. These creatives plan to move into the new office space on the top three floors of the 10,000 sqm building as soon as it is completed, i.e. in early 2024. Roztyly Plaza will offer not only offices but also the necessary amenities. In addition to the lobby, tenants will be able to use the roof garden with gazebos and an outdoor kitchen for informal business meetings.
"Construction work is continuing on schedule with the implementation of reinforced concrete monolithic structures on the above-ground floors of the building. Concrete pouring is progressing from the western part and is located in the 4th. NP, respectively on the 2nd floor in the eastern part. At the same time, HVAC backbone lines are installed on the underground floors. Thanks to this, we can already present the real outlines of Roztyly Plaza to potential tenants during tours," adds Eduard Forejt, Director of Business Development at Passerinvest Group. The Roztyly Plaza office building under construction is being built right next to the C - Roztyly metro station and the main traffic arteries (5. května, Jižní spojka), on the other side it is surrounded by Krčský Forest.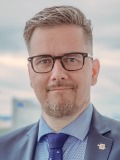 Eduard Forejt
Development Director
PASSERINVEST Group
Eduard has been active in the real estate industry since 1996. During his work experience, he served mainly in the commercial real estate field with the specialization of the office market. Since 2001 Eduard got his experience at King Sturge, CSOB, and over 12 years serving JLL in various leading positions. His last role at JLL was Business Development Director. At the moment Eduard is part of top company leadership at Passerinvest Group in the role of Development Director covering the acquisition department & development department which consists of project management & property management departments.
More »