Romanian developer One United Properties has completed the structure of its One Herăstrău Towers mixed-use project, which will include 139 residential units, in addition to offices and commercial space on 5,055 sqm. The project is 85% pre-contracted ahead its completion planned before the end of the year.
One Herăstrău Towers is developed in the Herăstrău neighbourhood, where One United Properties has already completed two others residential landmark developments in 2017 - One Herăstrău Park, with 106 apartments and in 2019 - One Herăstrău Plaza, with 156 apartments plus commercial spaces with an area of 3,800 sqm. The company will also build Neo Herăstrău Park in this area, on land acquired in 2019 on Str. Grigore Gafencu, a project that will have about 100 apartments plus commercial space.
One Herăstrău Towers has obtained the Green Homes pre-certification from Romania Green Building Council.
"The advanced works for this mixed project are within the deadline for the completion of the project set for the end of this year. The completion of the structure now allows the progress of the works, so in the next 5 weeks, we will dismantle both cranes. 85% of the entire project has already been pre-contracted, with increased interest of the customers for the residential units, the area where the project is located, and the design concept. One Herăstrău Towers was designed as a gateway to the neighbourhood, its two-tower buildings benefiting from panoramic views of Lake Herăstrău and the northern part of the city. Last but not least, through this project we give back to the area and to the community a space that was abandoned, therefore instead of an unfinished and ruined building we will see an architectural complex that will animate the place, a real aggregator of urban community and modern and sustainable lifestyle," says Beatrice Dumitrașcu, VP Residential Sales One United Properties.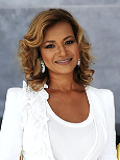 Beatrice Dumitrascu
Vice President
One United Properties
Beatrice Dumitrașcu is a key professional within One United Properties and has been appointed Vice-President Residential Sales. She has a 20 years career in sales and marketing and dedicated the last 15 years to the real estate industry, having the opportunity to collaborate with most of the important market players. She is responsible for managing the biggest sales premium residential portfolio of the company, generating important incomes for the company and maintaining top quality services for both clients and owners. She is permanently connected to the business and communication strategy of the company, constantly evaluating industry and market trends, and competition strategies, recommending product positioning and pricing, evaluating sales forecast and measuring performance against plans. Beatrice is a One United Properties key figure and often acts as a spokesperson for the company.
More »