Immofinanz is continuing the expansion of its Stop Shop retail park chain in Serbia with its tenth Stop Shop retail park, located in Sremska Mitrovica.
The new Stop Shop retail park will have around 7,000 sqm of retail space. With more than 20 national and international brands, it will provide a balanced mix of tenants, including fashion, cosmetics and footwear retailers, as well as household goods brands, gastronomic options, and other services for the citizens of Sremska Mitrovica and the surrounding area. Additionally, Stop Shop Sremska Mitrovica will provide a total of around 300 parking spaces located in front of the shopping area. The opening is scheduled for August 2019.
"The construction of our tenth Serbian Stop Shop retail park in Sremska Mitrovica underlines the commitment we made in 2015 when entering the Serbian market – to expand our multinational retail park chain. The new Stop Shop will offer the citizens of Sremska Mitrovica and the surrounding area a unique shopping experience", said Joško Piteša, Operations Manager Serbia for Immofinanz. "Immofinanz's Stop Shop portfolio already comprises 80 retail parks in nine countries and we are working on future growth to further strengthen our position as a leading retail park operator in Europe".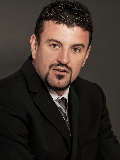 Joško Piteša
Operations Manager
Immofinanz Serbia
14 years of accumulated experience in real estate including 9 years of investment management and real estate selling and leasing business. Knowledge and experience in locating and acquiring potential properties/investments, market analyses and researches, promotion, marketing, sales, leasing as well as real estate project execution. Proven ability in promoting business collaborations between companies.
More »
Sremska Mitrovica is a city situated 75 km west of Belgrade and 60 km south of Novi Sad with approximately 37,000 inhabitants and an overall catchment area consisting of around 163,000 people. The Stop Shop will be located in the west of the city with access to one of the main roads, directly next to a major supermarket. Among the Stop Shop tenants are popular brands such as New Yorker, LC Waikiki, Deichmann, Sport Vision and DM.