Local real estate developer Forty Management has acquired a 39,896 sqm plot of land of in the Străulești area of ​​the Bucharest from Butan Gas Romania in a transaction valued at €8.2 million. The developer plans to deliver the Central District Lagoon City mixed-use project with 570 apartments, hotel, offices and commercial space, following an investment of over €100 million.
According to said Lucian Azoitei, CEO of Forty Management, Central District Lagoon City will be the first 100% green project in Central and Eastern Europe, self-sustaining through independent renewable sources.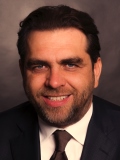 Lucian Azoitei
CEO
Forty Management
Licensed in Law and having earned an MBA degree, with an extensive experience of more than 20 years in real estate developing. Starting with the year 2000, he has chosen entrepreneurship, founding companies that are part of the Pazo Group, representative as a model of successful and visionary business. Often quoted as an authority on the market, with numerous listings in the press (Ziarul Financiar, Luxury, Wall-street.ro, Business Construct, Money.ro). His professional background positions him as an expert in the Romanian real estate market evolution, as he participated both personally and as a consultant to developing thousands of real estate properties. Lucian Azoitei coordinates the long time strategic development of Forty Management.
More »
Forty Management develops mixed-use projects under the Central District brand. The company has already completed several residential developments with another 243 apartments under construction and 600 apartments in the pipeline. Earlier in 2020, Forty Management acquired a 3,000 sqm plot in the Romanian capital's Herastrau area, where it plans to deliver a residential building with 30 apartments with a contemporary art gallery on the ground floor.