According to the CBRE Investment Breakfast Intentions Survey the vast majority of investors expect more than EUR 1 billion of investments in the Hungarian commercial real estate markets in 2016.
Participants at CBRE Investment Breakfast were much more confident that in 2016 the Hungarian investment volume will increase further than they were last year. Share of respondents voting for "no increase" declined from 44% to 6%. The vast majority (94%) of investors expected that more than EUR 1 billion of investments will arrive to the Hungarian commercial real estate market in 2016.
"Agreeing with the majority of respondents, CBRE is also of the opinion that the overall investment volume in Hungary will be in the range of EUR 800-1,200 M. Last year's survey touched the same question where most of the respondents were correct in their prediction which gives us more confidence for the current estimation", said Lóránt Kibédi Varga, Managing Director of CBRE Hungary.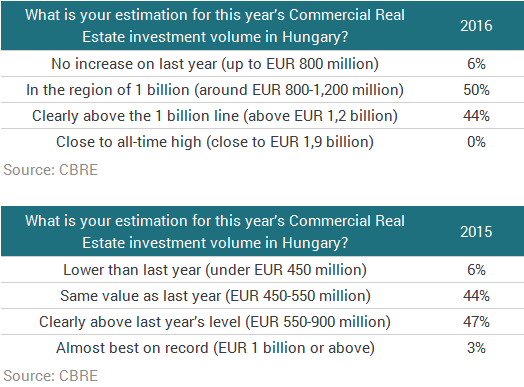 Participants expected domestic investors to be the most active players, in contrary to last year when they were ranked second after investors from key EU countries. Share of German open-ended funds went up significantly from 5% to 25%. Estimated share of Middle-Eastern and Russian money remained stable.
"2016 should be the turning point as conservative Western-European investors return to the Hungarian market resulting in an overall increase in investment volume supported by an increased number of landmark transactions expected to close in 2016", said Tim O'Sullivan, Head of Capital Markets Hungary & SEE.

About the expectation on a possible credit rating change the relative majority of investors (47%) answered that "it will happen in 2016 but will not materially increase turnover." CBRE also expects this move to happen in the course of the year. However, CBRE believes its impact will be rather moderate, as most of the investors have already priced in this change.
Among the real estate sectors office is still the most popular asset class – as it was the case last year. Retail made the largest improvement from 17% to 30%. Interest for industrial assets has also increased from 8% to 13%. This is being already reflected in the increase of liquidity.
Concerning the current investment cycle the relative majority of the respondents (38%) thought that "it is a sustainable increase to the level where Hungary should be". CBRE shares the view that this is a start of a gradual improvement both on occupational and investment market. There can be correction coming as a result of changes in the global environment; however, current market patterns in Hungary are suggesting a sustainable growth.
Despite the yield compression experienced last year, same high share of the respondents expect further yield decline as last year. Regarding the opportunity in Budapest for investors Interest for core assets has increased slightly from 34% in 2015 to 39% in 2016 - in line with the global trends. Assets with add-value opportunity showed stable interest accounting for 50% in both years.

Questioning the alternative sectors investors' interest might shift towards alternative assets: student housing and healthcare properties can be the new favourites. CBRE has to point to the lack of availability of these assets, while sport facilities are more progressed.