The European industrial and logistics investment market experienced a record breaking H1 investment volume this year, despite a slower Q2. In Hungary, the vacancy rate slipped to 6.6%, and developers' activity is on the rise according to the latest research data of CBRE.
Modern industrial stock in Hungary has reached 7.7 million sqm. Out of this total volume, only 34% is considered to be developer-led industrial space as the majority consists of built-to-own (BTO) schemes. In the first half of 2016, 162,500 sqm of new space was delivered and the total annual volume is expected to be 289,100 sqm, representing a 28% y-o-y decline in new completions.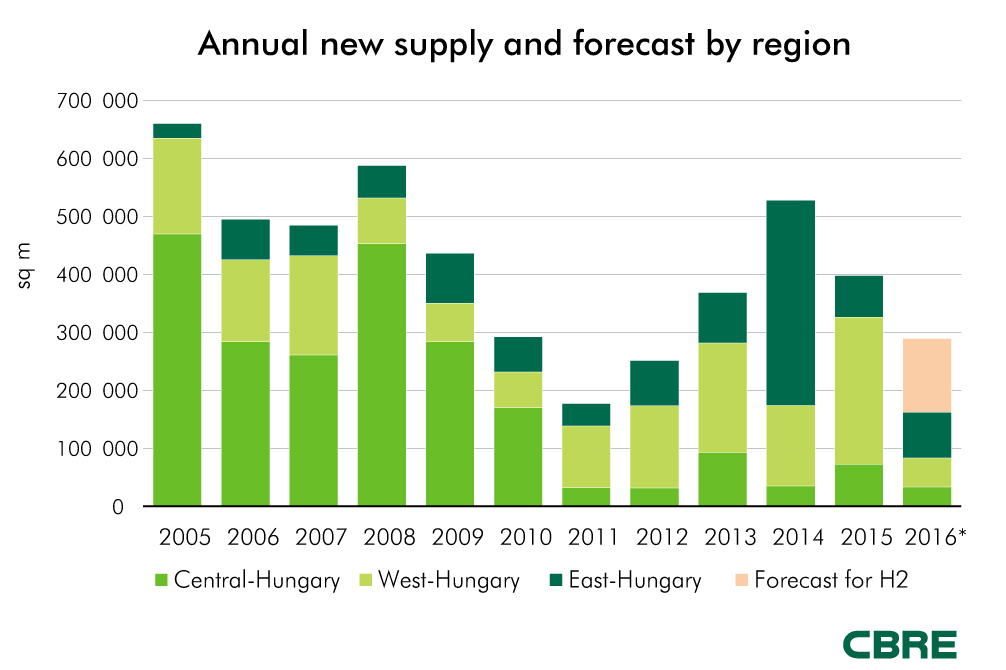 Developer-led construction activity is clearly on the rise throughout the country. Whilst in 2015 they gave 10% of total new completions, for 2016 CBRE Hungary expects their share to rise to 45%.
Overall vacant areas amount to 511,900 sqm, translating to a 6.6% vacancy rate. Most major cities register lower volumes of vacant space compared to Q4 2015.
Across Europe, occupier demand held up well in H1 2016 despite a slowdown in activity during Q2, which in some markets – including the Netherlands – was quite pronounced. Other core markets performed strongly including Germany, Italy, the Czech Republic, and the UK. Net absorption has remained positive throughout Europe, pushing vacancy rates down to a weighted average of 5.5%. In addition, many of these leading markets lack availability in modern warehouses and city depots, which has resulted in strong development activity with an increased share of speculative development.