A new 18,500 sqm production facility for one of the world's leading automotive interiors supplier, Yanfeng Automotive Interiors (YFAI) was officially inaugurated in a formal ribbon-cutting ceremony at CTPark Kragujevac.
Taking part in the ceremony were key partners and supporters of the project including H.E. Mrs. Chen Bo, the Chinese Ambassadress to Serbia, Radomir Nikolić, the Mayor of the City of Kragujevac, and Aleksandar Vučić, the President of the Republic of Serbia.
"CTP is pleased to open this new facility with YFAI, our long-term client and we are happy with our regional cooperation which enabled us to find the right location that fits their business need and construct this building for them here in Serbia", stated Remon Vos, CTP CEO. "We have invested approximately €20 million and have land available for their further expansion. Kragujevac is a strategically located city and offers highly skilled labour, due to the city's technical university, and long tradition in engineering," commented Vos.
Remon Vos
CEO
CTP
Born in the Netherlands in 1970, Remon Vos founded CTP in 1998 with the goal to develop A-class industrial properties in the Czech Republic. Remon developed and grew the CTPark Network to become the largest integrated system of full-service business parks in CEE. At over 5 million sqm of lettable area, and sufficient land to grow to 8 million m2, the CTPark Network offers 5 unique property types that can accommodate wide variety businesses from 450 sqm incubators to 50,000 sqm built-to-suit manufacturing facilities or 100,000 sqm distribution centres. CTP is a long-term investor and partner to its clients, with an innovative and entrepreneurial approach. This focus has resulted in 70% of all new business coming from existing clients. CTP has also developed unique, high-quality office and housing projects, such as the award-winning Spielberk, and the unique student housing concept Domeq in Brno. Remon continues to lead the company at full-speed, with big plans for the future.
More »
CTPark Kragujevac is located just north of the city on the main north-south artery connecting Serbia to Northern Europe. It is part of the four other CTP projects underway in the county, in which CTP plans to invest over €100 million by 2020 to create a portfolio of 200,000 sqm by that time. In Serbia, currently, CTP has four parks, with five projects underway and more in the pipeline. CTP's has two major logistics parks underway just outside of the capital Belgrade, as well as a third park outside of the university city of Novi Sad.
"CTP is proud to take part in the positive, long-term development of the city and pleased with the support of the local authorities which enabled us to construct the facility on time for our valued client, Yanfeng, whose new facility, constructed to high standards and BREEAM specifications, will add value to this community for many years to come," commented Vlatko Djuricek, CTP Country Head of Serbia.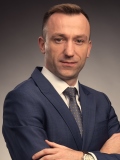 Vlatko Djuricek
Country Head of Serbia
CTP
Vlatko Djuricek has a Master degree in Civil Engineering in Construction Project Management from Belgrade University. In 2011, Djuricek started his professional carrier as a development and investment manager at Delta Agrar, part of Delta Holding, the biggest Serbian company. He has more than 8 years of experience in acquisition, investment and development working with leading international and biggest domestic real estate companies as Lidl at the position of Reginal Real Estate Manager and MPC Properties at the position of Head of Development and Acquisition. Vlatko Djuricek has been appointed as Country Head of CTP Invest Serbia at the end of 2017, ready to use his wide-ranged expertise in real estate. During this period, the Serbian portfolio is growing progressively and it is expecting to have its first 150.000 sqm in a short time. Vlatko Djuricek is also a member of the top 30 CTP management team.
More »