U.S. logistics giant GXO lands at CTPark Bor. This large unit in the size of 60,000 sqm will lift the Czech/German border market hotspot hub to full capacity. It will boost the development demand at CTP satellite sites in Aš and Cheb too, the company reports.
CTP is constructing a 60,000 sqm unit at CTPark Bor for U.S. sector giant GXO Logistics Inc, which has taken a lease on the property in this fast-expanding transport hub close to the western Czech/German border and the main highway linking Prague to Germany's southern industrial heartland. The GXO facility will serve as an automated fulfilment centre for zooplus, Europe's leading retailer of online pet food and accessories and brings the CTPark Bor to full capacity, which at 616,000 sqm of GLA is the second largest in CTP's total 7.1 million sqm portfolio and its largest in the Czech Republic.
With CTPark Bor at full capacity, the strong demand for high specification modern new build warehouses and build to suit facilities in the surrounding western Czech region is boosting expansion at CTP's Aš and Cheb and other nearby CTParks, especially from German companies looking to relocate.
Jakub Kodr, Head of Business Development, Czech Republic CTP, said "The GXO development marks a further step in our longstanding relationship with this client and full capacity at CTPark Bor. The exceptionally strong demand for logistics and industrial space in the western Czech region is clearly lifting interest in CTP's Aš and Cheb locations and other CTP parks located in the same region. CTP's concentrated focus on customer service and our uncompromising insistence on the highest levels of sustainability in the industry are resonating with what the market in the Czech Republic wants."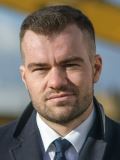 Jakub Kodr
Head of Business Development, Czech Republic
CTP
Since Jakub joined CTP, he has been excelling and shows no sign of slowing down. He has nearly 10 years of real estate experience and is a fresh MBA in Real Estate graduate who is soon to pass the RICS APA exams. Rarely to be seen without a phone to his ear, Jakub takes excellent care of clients while also being a skilled property-client matchmaker.
More »
Since 2005, the park has grown GLA by approximately 15 percent per year, and today is home to more than 18 occupiers employing over 5,000 people, including Loxxess, Autoneum, Bosch, Primark, Techdata, Bridgestone, Hellmann, Weltbild, and Adient. It boasts a CTP Clubhaus, medical care on site for our customer's employees and on-site accommodation as well as recreation facilities and landscaping. The unit is being constructed for GXO and will be finished in Q3 this year and CTP is aiming to achieve a BREEAM Outstanding sustainability certification for the building upon completion. Some 700 people will be employed at the facility, which will also have its own in-built catering facilities. The high-spec unit, with a higher than usual 13m clear height, will include a seamless floor, racking system and be partially automated.
The Czech town of Aš is located just 3kms from the German border and via its motorway network provides easy access to the Czech capital, Prague (2.5 hour east) as well as the German cities of Leipzig (2 hours north) and Nuremberg (2 hours south). CTPark Aš now comprises c. 33,000 sqm GLA of space in three buildings and CTP has plans to further develop the park and its potential for customer-focused build-to-suit solutions. Among the first tenants at the location are Petainer, a producer of sustainable PET plastic packaging, and Bekaert Textile, a manufacturer of upholstery fabrics for a global furniture retailer. The park has on-site facilities management, landscaped green areas and all buildings are constructed to the industry's highest BREEAM excellent sustainability standards. Leading global brands such as Audi, BMW, Volkswagen and Siemens have facilities in nearby locations and with the area's industrial heritage comes a local, skilled workforce.
Cheb lies some 30 minutes south of Aš, 10 minutes from the German border and almost halfway between Prague to the East and Liepzig to the South. At CTPark Cheb, CTP has just handed over a 24,000 sqm facility to its No 1 customer DHL, which will operate on behalf of global e-commerce client. A further tenant, the German bike manufacturer, Cube, will launch its first Czech assembly line with a new 10,000 sqm production facility in early Spring 2022. Cube chose this location because of the ready availability of a trained and technically able workforce capable of maintaining the company's reputation for high-quality products. The site at Cheb lies next to the E10/D46 motorway.