Colliers International has taken over the management of Tischnera Office in Kraków, owned by Cavatina Holding. Tischnera Office is a modern Class A office and service facility with a BREEAM certificate at the Very Good level. It was built in Podgórze district, 5 km from the city centre, in close proximity to the A4 motorway and 20 minutes by car from John Paul II International Airport.
The building offers nearly 33,637 sqm of modern office and service space on 10 storeys and 671 underground parking spaces. Tischnera Office is one of the greenest office buildings in Kraków. It provides tenants from the 3rd floor up to the top floor with access to green terraces in a cascade arrangement, which occupies over 1,600 sqm.
"Tischnera Office is the first Cavatina project in our portfolio. We are glad that another leader of the Polish real estate market trusted Colliers and we hope that our cooperation will expand with further facilities. Tischnera Office is the eighth building acquired by Colliers this year, the second of which is in Kraków. In total, our company manages 103,801 sqm of office space in the capital of Małopolska", says Agnieszka Krzekotowska, partner and director of the Property Management at Colliers International.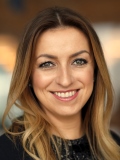 Agnieszka Krzekotowska
Partner, Head of PM
Colliers International (Board Member, RICS in Poland)
As the director of Real Estate Management Services, Agnieszka leads a team of over 95 experienced professionals and supervises the portfolio of real estate managed by Colliers in Warsaw and regional cities in Poland. Her duties include the development of the property management business, including the acquisition of new projects and searching for technologies and solutions to expand the company's current range of services. As a partner, Agnieszka is also responsible for co-creating the company's strategy. Agnieszka joined Colliers International in 2009. She has over 14 years of experience in the commercial real estate market, confirmed by cooperation with the largest funds operating on the Polish market. Agnieszka is a member of the prestigious Royal Institution of Chartered Surveyors and Advisory Board Member of RICS in Poland. She is a graduate of the Leadership Academy for Poland.
More »
Cavatina Holding S.A. is one of the largest developers and investors on the Polish real estate market. The Group has a portfolio of multifunctional investments with a total area of 500,000 sqm. The company operates in 7 major Polish cities and currently has 24 active projects.