Colliers International is extending its range of services in Poland. The company has been joined by Bartosz Jankowski, who has become the director of the new Design & Build department as a partner. The new business line will offer fit-out and construction services, including comprehensive implementation of space arrangement projects in office, hotel and service buildings.
Bartosz Jankowski has many years of experience in construction and arrangement projects, especially in the office sector. During his career, he has represented tenants and run projects on behalf of the contractor. Bartosz is an experienced manager with extensive technical knowledge. Over the past few years, he has successfully built up a multi-sector design company, of which he was the founder and management board member.
Bartosz is a graduate of the Warsaw University of Technology, the Warsaw School of Economics and the University of Reading (College of Estate Management) and he is a member of RICS.
"Design & Build is the latest new department at Colliers International in Poland created to provide our customers with comprehensive services in various fields. The arrangement of space is currently one of the key elements affecting the comfort and effectiveness of work, and it also plays an important role in winning talented staff. I am convinced that the new department managed by Bartosz Jankowski, who has extensive experience in this sector, will respond to the needs of our clients and contribute to the development of their business," says Monika Rajska-Wolińska, Managing Partner at Colliers International in Poland.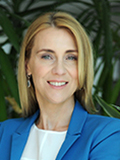 Monika Rajska-Wolińska
Managing Partner, Poland
Colliers International
As Managing Partner for Poland, Monika is responsible for the strategic and operational activities of the company. Monika has 20 years of experience in the real estate sector. She is a member of RICS, the CEO Round Table, Young Presidents' Organization and Women Leadership in Business Foundation. Monika's passion for real estate and her focus on providing a complex and tailored service to clients has been recognised among market professionals. In April 2015, Monika was named Professional of the Year in the prestigious industry competition the CEE Quality Awards co-organised by the Financial Times. Monika is one of the twelve members of the Colliers EMEA Board, which determines the company's strategy in Europe, the Middle East and Africa.
More »
"Today, fit-out services include not only the implementation of construction projects, but above all the recognition of clients' needs and expectations. Placing an order for a comprehensive fit-out to an experienced contractor allows the time needed to prepare new space to be optimised, and the space to be matched precisely to the client's budget. Using our technical knowledge and many years of experience, we enable our clients to go through the process of changing their space in the most effective way, taking into account their goals and the specifics of their business," says Bartosz Jankowski.