With total investments exceeding €500 million in Romania's real estate market in the past 25 years, Anchor Grup is looking for new funding and recently kicked off a new residential project. Affan Yildirim, General Manager, Board Member of Anchor Grup and Board Member of Shopping MallDova, spoke to Property Forum about the way in which the developer adapted its malls and offices to the post-pandemic trends but also about the investment context in the country.
This interview was first published in Property Forum's annual listing of "The 50 most influential people on Romania's real estate market".
Anchor Grup has recently kicked off the development of a new residential project in Bucharest. How much are you investing in the complex and how will you shape the living experience for future residents?
Select Residences is the third residential project in Anchor Grup's portfolio, with a planned investment of €40 million. We had a successful experience with the development of our first two projects, InCity Residences and Pallady Towers, so we chose to continue investing in the residential segment, which has a great potential, given that the number of homes delivered, but also those sold in Bucharest, is on an upward trend in recent years. Select Residences complex is designed for young, active professionals who work in corporations or have their own businesses and who appreciate premium urban concepts, as well as for active young families who need comfort. We have already started the construction of the project and it is estimated to be delivered by the second half of 2024.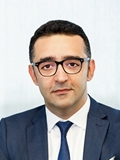 Affan Yildirim
General Manager and Board Member
Anchor Grup Romania
Affan Yildirim has been the General Manager and Board Member of Anchor Grup since 2015. He joined the Board of Shopping MallDova two years later. With a solid academic background in finance and business administration, Affan began his career at PwC, one of the biggest multinational audit and consulting companies, and after 7 years he became CFO and Vice President of Credit Europe Leasing IFN. In 2012, Affan was appointed CFO of Anchor Grup, and he was subsequently chosen to be interim General Manager. Three years later, he was appointed General Manager of Anchor Grup and coordinated the complex refurbishment of the two shopping centres owned by the company: București Mall-Vitan and Plaza România. More »
Have consumer habits changed after the pandemic? What are you seeing in your shopping malls?
We are focusing on our malls as one-stop-shop destinations, compact locations, where visitors can easily find everything they need, but we strive to continuously improve the overall experience and shopping options we offer to customers; therefore, we are constantly trying to improve the mix of tenants in both shopping centres and to look for new opportunities and attractive retailers, depending also on the feedback and consumption behaviour of our customers.
For example, Bebe Tei is one of the most important and recent names added to the mix of tenants in București Mall-Vitan, an important, large-scale transaction made by our internal leasing team.
Last year we completed another important acquisition for us: Hollywood Multiplex, the first multiplex cinema opened in Romania, has recently entered the Anchor Grup's portfolio.
Another milestone for us was that the international fashion brand ZARA presented, for the first time on the local market, with the reopening of its store in Plaza România, the new global concept, which proposes to customers a complete and surprising shopping experience, as well as a design that combines the influences of art deco with sustainability and eco-friendly elements.
What is the value of your total property portfolio in Romania and are you planning additional investments in the existing stock?
Anchor Grup started its activity in Romania 25 years ago and, since then, the company's local investment has exceeded €500 million. We invested constantly, even in the challenging years, and we permanently pursue business development and analyse the opportunities in the market. We trust Romania on the long term, and we will continue on the path of sustainable development.
What is your outlook for the economy this year and how will it impact the performance of your portfolio?
It is quite difficult during this period to make economic predictions, considering the current geopolitical context, so strongly marked by uncertainties. However, we remain optimistic that the current situation will not have prominent effects on Romania and our business. The stability in the market that Anchor Grup has shown, and our continuous development maintain the trust of our customers and partners, so we do not see that our portfolio could be impacted in any way during this period. Our development and consolidation plans will continue and the signs in the market show us that customer interest has remained unwavering.
What is the biggest opportunity offered by the property market in Romania going forward?
We see two segments that are on ascending trend for a couple of years, both accelerated by the pandemic context. One is industrial & logistics, which benefited a lot from the rise of e-commerce. The other is the residential one, as, on one hand, people wanted better and bigger houses and, on the other hand, the need to buy apartments as investments maintained its increasing tendency.
Is the inflation rate going to have an impact on the buying sentiment in the residential segment?
Generally, when prices start to rise, inflation rises and people turn to possible investments, and the real estate market has proved many times a good refuge for investors. Market signals continue to be positive, and demand is still strong in the residential sector.
Is the hybrid work system the way to go forward after the removal of all restrictions?
It seems the future belongs to hybrid work, as most employees want to work partially remotely, according to all studies and data we see both at European and local levels. This trend will result in the remodelling of certain spaces by the companies, as the time at the office will be more valuable and spent in different ways than before. Managers are still exploring new post-pandemic work models, with the share of office and remote work being decided by each company. But regardless of which trend will dominate the market, we will continue to be open to the needs of our tenants and support them in any possible way.
How can Romania attract more investments in the property sector, especially foreign players?
Foreign investments have been increasing in recent years in the Romanian market; however, their volume continues to be relatively reduced compared to other European countries. What is missing in the first place is the promotion of Romania, as a country. Still, Romania offers very attractive investment opportunities in the property market from the perspective of prices and the current yield values are still well above those currently quoted in the rest of the region.
Anchor Grup recently secured a loan of €80 million to refinance its retail and office assets. Are you looking for additional funding?
The loan granted by Banca Transilvania represents one of the most important bank financings granted in recent years for the players in the Romanian real estate market. Our partnership is a positive sign for the real estate market, not only for us but also for all active investors in the country and for potential foreign real estate investors interested in Romania. As we continue our investments in Romania, we are confident we will be able to find additional funding for all our business segments, given our experience, our sustainable projects and the premieres we introduced to the local market.
How does Romania's property market look from a regional perspective?
The volume invested in real estate assets in Romania, Poland, and Slovakia increased in 2021, while the Czech and Hungarian markets experienced a decline compared to 2020, according to data from real estate consulting firm Cushman & Wakefield Echinox. Romania is still well-positioned from a price perspective of the real estate projects, but also from the overall perspective of foreign investors, being the second biggest market in CEE, with a dynamic, well-educated, hard-working population, so I am confident that in the coming years the country will maintain its attractiveness.