VGP announces the acquisition of a new land plot in a prime location near Bucharest and the start of the development of its new multi-tenant business park VGP Park Bucharest. Law firm Kinstellar advised VGP Parks on the acquisition.
The new logistic park is being developed on a land plot of approx. 250,000 sqm and will have a total potential GLA of about 120,000 sqm divided over 4 buildings. Construction of the first building with a surface of 28,000 sqm is planned to be kicked-off in June 2021. Delivery is expected for December 2021.
Located in the northern part of Bucharest, the park offers flexibility to potential tenants in terms of layout and build-to-suit options.
The site's location, in addition to the labor availability in this part of Bucharest, makes it ideal for companies active in the logistics, e-commerce, and retail industries, being a perfect site with direct access to the city center for last-mile distribution.
"We are very pleased to have acquired this strategically located land plot near the Romanian capital and thereby to enter Bucharest market as well. With technological changes and e-commerce continuing to be an important driver for demand for high-standard facilities, we experience a solid demand from potential tenants. With this new park, we can offer high quality & sustainable premises on a top Bucharest location" says Adrian Crizbășianu, Country Manager VGP Romania.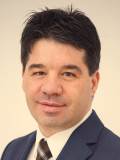 Adrian Crizbasianu
Country Manager
VGP Romania
Adrian is part of the VGP management team as Country Manager Romania. In this role he is carrying out an accelerated development of Romanian operations with a short term goal of extending VGP presence nationwide. Adrian has extensive transport & logistics experience having worked for over 15 years with DB Schenker in Romania in various management positions and acting in the last 7 years as COO & member of the board of management. He was an active part of the making of a market leader in the field in Romania, having been also directly involved in developing contract logistics – SCM division of Schenker as well as running a major project of re-shaping & securing the future for the port Constanta Schenker terminal operations.
More »
Bucharest also hosts almost half of the Romanian stock of modern A-class logistic space, estimated to about 5 million sqm at the end of 2020, thus being the primary market for the industrial real estate segment.
VGP Romania, a subsidiary of the VGP Group with a long-standing presence in Romania since 2007, owns presently business parks in Timisoara and Sibiu as well as parks under construction in Brasov and soon in Arad.
Founded in 1998 as a family-owned real estate developer in the Czech Republic, VGP owns and operates assets in 12 European countries directly and through its joint ventures. As of Dec 2020, the Gross Asset Value of VGP, including the joint ventures at 100%, amounted to €3.84 billion and the company had a Net Asset Value (EPRA NAV) of €1.35 billion.
Law firm Kinstellar advised VGP Parks on the acquisition. The transaction was personally led by Victor Constantinescu and supported by associates Răzvan Constantinescu and Adelina Seserman.
Victor Constantinescu
Managing Partner, Romania & Co-Head of Real Estate
Kinstellar
Victor Constantinescu is the Managing Partner of Kinstellar's Bucharest office and the Co-Head of the firm-wide real estate practice. Kinstellar is a leading law firm in Central and Eastern Europe and Central Asia, with offices in 10 countries and over 250 lawyers. Victor focuses on all aspects of real estate transactions in the region for a range of international investment funds and local developers and has over 15 years' experience locally and regionally. His particular emphasis is on transactional work: acquisitions and sales of commercial real estate, as well as joint ventures, across all asset classes: retail, office, logistics, and agricultural. Since joining Kinstellar in 2017, Victor has led transactions whose combined value exceed EUR 500 million. Leading international legal directories such as Chambers, Legal 500 or other benchmark publications all rank him among the top three real estate lawyers in the country. Recent editions of the guides recommend him as "an outstanding practitioner for his commercially-oriented approach", as well as for "his commercial and precise advice, flexibility and international experience". He is further described as "experienced, active and well connected'', with clients appreciating the "very easy communication" with him. Born in Canada, he is a native English speaker. He began his career practicing in the United States before moving to Romania full-time in 2004. He is admitted to the New York and Bucharest Bars.
More »
Bucharest Managing Partner and Head of Real Estate at Kinstellar, Victor Constantinescu, adds: "Great news for a great client in VGP – the acquisition of a land plot in such a great location. Very happy to have helped their dynamic team. The transaction underscores again just how much logistics work we at Kinstellar do."