Masaryčka and Nová Waltrovka, two office buildings that are currently being developed in Prague by Penta Real Estate, will offer the technology solutions of local proptech Sharry.
When the first tenants move into the new Masaryčka and Nová Waltrovka office buildings in Prague in 2023, they will have a wide range of smart tools and services at their disposal such as mobile access, dynamic parking, a tenant app, a visitor management system or digital signage.
"We are pleased that Penta Real Estate has chosen our software solution for these two new office buildings. Our cooperation has already started at SKY PARK Offices complex in Bratislava. Masaryčka is our second building developed by Penta which was designed by the renowned Zaha Hadid Architects studio," said David Hartl, Head of Sales and Business Development at Sharry.
Pavel Streblov, Business Director Commercial Real Estate at Penta Investments, comments: "We actively monitor and evaluate the latest trends in digitalization and prop-tech with the ambition to predict and incorporate user requirements into our commercial real estate projects. In Sharry, we see a strong partner with international experience, who supports us in delivering state-of-the-art solutions."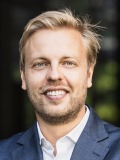 Pavel Streblov
Business Director CRE
Penta Real Estate
Pavel is responsible for all office building projects by Penta Real Estate in the Czech Republic, including the revitalization of the Masaryk Station (Masarykovo nádraží). He joined Penta as an experienced real estate manager in 2012. In the past, he was a partner in the 3C real estate private equity fund and an advisor of financial institutions and the Ministry of Finance and he also worked for the bond division of JP Morgan in London.
More »
Sharry is a smart access platform for Class A office buildings. Its solution combines smart access (including mobile access, dynamic parking, and elevator control) with a visitor management system and tenant engagement features to provide the best-in-class building experience for the tenants.