Asking prices for apartments and houses in Romania gained 3% in the first quarter of 2021 compared to the same period of 2020, but the yearly growth rate cooled down due to the reduction of demand and the increase of stock available for sale, according to a report by Imobiliare.ro.
Cluj-Napoca is the most expensive residential market in Romania, with asking prices averaging at €1,850 per sqm. Homes in Bucharest cost around €1,480 per sqm. Prices of more than €1,000 per sqm are also recorded in regional cities such as Timișoara, Brașov and Constanța.
"The average increase of 3% was reflected differently on the two market segments: the price of existing buildings grew slightly by 0.5%, while prices of new residential units gained 6.8%," says Dorel Niță, Head of Data & Research at Imobiliare.ro.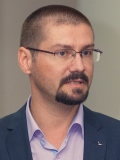 Dorel Niță
Head of Data and Research
Imobiliare.ro
More »
Some 149,031 property transactions were closed in the first quarter of 2021, up 11.9% versus the same period of 2020, according to official data quoted by Analize Imobiliare.
The report further points out that the interest of buyers for land has gone since the onset of the pandemic. Ilfov and Cluj counties saw the biggest number of people looking to buy land for residential investments.