GTC has decided to extend its Hungarian portfolio with the Váci Greens D office building in Budapest. The transaction is partially financed from the green bonds issued in 2020 and is in line with the Group strategy to invest in a sustainable portfolio of commercial buildings located in the CEE capitals.
GTC did not name the building's seller in the announcement. Developed by Belgian developer Atenor, Váci Greens D was sold to an undisclosed Hungarian fund for an estimated sum of €44 million in a forward deal back in November 2017.
Váci Greens building D offers 16,027 sqm of modern office space including an attractive terrace area, various retail units such as restaurants or fashion brands as well as 246 parking spaces. The office building is almost fully occupied with reputable prime tenants including Unilever, AVON, and Ford.
The building fits into GTC's sustainable portfolio of green developments that ensure tenants' health and well-being. The Váci Greens D office building complies with the BREEAM requirements, achieving the "Excellent" certification in its design. The acquisition will be partially financed from green bonds issued at the end of 2020.
"Last year we have sold one of our long-lasting assets, the Spiral office building. Seeking new opportunities on the market, we decided to acquire Váci Greens D located in Budapest that fits our portfolio and meets our requirements in terms of modern and sustainable Class A projects. We consequently continue our strategy, offering our tenants the highest standards that now in the pandemic are needed more than ever before," commented Yovav Carmi, President of the Management Board of GTC.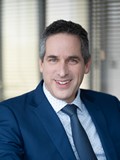 Yovav Carmi
President of the Management Board
GTC Group
President of the Management Board of Globe Trade Centre S.A.. Yovav Carmi started his professional career in 1994 as an auditor at Ernst & Young, where he worked until 1996. In 1997, he worked for the Israel Securities Authority as an investigator. Between 1998 and 2001 he was a financial controller at the Kardan Group. Yovav Carmi has been a chief financial officer and member of the management boards of many of the Company's foreign subsidiaries since 2001. Mr. Carmi was a member of the management board of the Company between 2011 and 2015. Starting 2015, he became Chief Operating Officer at GTC. Yovav Carmi graduated from Tel-Aviv University, where he obtained a B.A. degree in law and a B.A. degree in accounting. He also holds an MBA degree from Tel-Aviv University (1998). Moreover, Mr Carmi is a chartered public accountant in Israel.
More »
Together with the purchase of Váci Greens D, GTC Hungary manages an office portfolio of 88,400 sqm, including Center Point, Duna Tower, and GTC Metro. Additionally, GTC is developing Pillar, a project that will offer 29,000 sqm office space and has been fully rented before commissioning planned for Q1 2022.