During its reconstruction, Eden Park Handlowy in Zgorzelec, Poland has changed its format from a shopping centre into a retail park with the total GLA increasing to 10,000 sqm. At the moment the park is actively filling its leasing areas. Agreements have been signed with several companies recently.
In particular, Action - an international non-food discounter took 867 sqm for six years. Local retail furniture chain Meble Lord rented 875 sqm for seven years.
Eden Park Handlowy anchor tenants already include Decathlon (1,900 sqm), which is scheduled to open its store this autumn, and Danish furniture chain Jysk (1,020 sqm). There is also a Polish network of flooring stores Komfort (565 sqm).
"The reconstruction planned by the Fund during the acquisition will be completed this autumn. Practically, we are restarting this property again in the format of a retail park. We have already managed to form a high-quality tenant mix that will complement a major shopping cluster with retail "magnets" such as Carrefour and Leroy Merlin," Maxim Shkolnick, Partner of Focus Estate Fund said.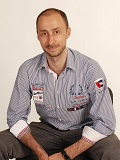 Maxim Shkolnick
Partner
Focus Estate Fund
10+ year experience in real estate investments. In 2009 co-founded a Ukrainian real estate brokerage firm which generated €150+ mln in sales. As a real estate investor participated in deals with a total exit value of €55+ million. Founder of Address.ua – a leading real estate portal in Ukraine. Formerly managing partner at venture capital firm Technobridge, SVP of Viewdle (acquired by Google in 2012). ML in International Law.
More »
Marcin Pawłowicz, Country Manager Poland at Turner & Townsend added: "We are proud to be part of this interesting remodelling project. Supporting Focus Estate Fund with Project and Cost Management services on the Eden Park investment is very much aligned with our determination to shape a better built environment for future generations with our tailored services. The investment follows the overall European trend we are currently observing in bringing new life to existing retail schemes."
It is worth reminding that Eden Park Handlowy is the third shopping centre that Focus Estate Fund has acquired in Poland over the past two years. The Fund's portfolio is also represented by two shopping centres in the Czech Republic.
Focus Estate Fund is a real estate investment fund with its headquarters in Kyiv (Ukraine), focusing on non-prime commercial real estate in the countries of Central and Eastern Europe. The fund plans to invest in the development of commercial real estate projects of medium format in the most dynamic markets of Eastern Europe in the amount of €50 million over the next 2 - 3 years.