Two retail parks in the Czech portfolio of the Focus Estate Fund end their year with zero vacancy: Most Retail Park (GLA – 6,471 sqm) in the city of Most and Centro Ostrava Retail Park (GLA – 7,699 sqm) in the city of Ostrava.
The new management strategy of Most Retail Park has allowed reducing its vacancy from almost 40% to zero this year. "It was a serious challenge for the team which was effectively brought under control," Maxim Shkolnick, the Fund's Partner, says. The signed contract with the anchor tenant Mountfield (1,483 sqm) for eight years, as well as with the Jump Family (1, 200 sqm of entertainment area) together allowed filling the last square metres of rental area.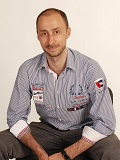 Maxim Shkolnick
Partner
Focus Estate Fund
10+ year experience in real estate investments. In 2009 co-founded a Ukrainian real estate brokerage firm which generated €150+ mln in sales. As a real estate investor participated in deals with a total exit value of €55+ million. Founder of Address.ua – a leading real estate portal in Ukraine. Formerly managing partner at venture capital firm Technobridge, SVP of Viewdle (acquired by Google in 2012). ML in International Law.
More »
"Our main focus was on changing the concept of work with tenants, improving service functionality, attracting additional investment for the concept of the property, and improving transport accessibility for the buyer. The Fund also managed to significantly increase the attractiveness of the retail park location by selling the adjacent land to the Austrian furniture operator XXXLutz, which has already completed the construction of a three-storied furniture store Möbelix".
Petr Machula, Head of Property Management at Savills Czech and Slovak Republics comments: "We are pleased to have contributed to the growth potential of Most Retail Park with our full range of professional property management and letting services. Since being appointed in 2017, we have helped our client continuously increase the net income and overall value of the asset which is now fully occupied."
As for Centro Ostrava, the Fund's strategy was mainly in the rotation of tenants, marketing and digital activities. From the moment of acquisition, we succeeded in increasing the average lease term from 2.7 years to 5 years. In the nearest future, it will allow the Fund to have a stable income regardless of market conditions.
Anchor tenants at Centro Ostrava are Mountfield, Jysk, Okay elektro, AutoDraft and Koberce BRENO; at Most Retail Park - Mountfield, Jump Family, Sportisimo, Breno and Auto Kelly.
Focus Estate Fund is a real estate investment fund with its headquarters in Kyiv (Ukraine), focusing on non-prime commercial real estate in the countries of Central and Eastern Europe. The fund plans to invest in the development of commercial real estate projects of medium format in the most dynamic markets of Eastern Europe in the amount of €50 million over the next 2 - 3 years.