JRD is merging two of its divisions. JRD Development, a specialist in sustainable development and healthy living, and JRD Land, a land bank and specialist in subdivision development and urban planning. This creates a division with the new name JRD Real Estate. The CEO of JRD Real Estate remains Alexandra Tomášková, who has been leading the two separate divisions from her position as CEO.
"We decided to merge our two divisions primarily to maximize the synergies of these two companies, which are naturally related to each other in the development process. We are also fulfilling one of the long-term strategic goals of the JRD Group, namely the development of large-scale land units in the concept of sustainable construction. In this context, we are working, for example, on creating the concept of the so-called JRD carbon zero smart city and approaching carbon neutrality," comments Alexandra Tomášková, CEO of JRD Real Estate, on the change.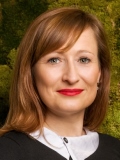 Alexandra Tomášková
CEO
JRD Land & JRD Development
Alexandra Tomášková became CEO of JRD Land in February 2022. Under her leadership, this division of the rapidly expanding JRD Group focused on the rapid development of a portfolio of development sites and larger land units for future sustainable construction. In addition, Alexandra Tomášková is also CEO of JRD Development as of September 2022 and thus heads both divisions, which are closely linked in their focus on land acquisition and sustainable development. Alexandra Tomášková previously worked in senior management positions at Red Group, Skanska Property Czech Republic and JLL. She brings to both divisions of JRD Group her extensive experience in sustainable and environmentally friendly construction. In Skanska's commercial division, she was responsible for managing the marketing and leasing of projects known for their emphasis on sustainability, quality architecture, design and a pleasant working environment. In addition, since 2018, she has led the entire Czech and later the Hungarian division. At real estate consultancy JLL, she was responsible for the office sector: she was mainly involved in leasing, workplace strategy, project management and ESG consulting.
More »
"In the Land division, we have successfully developed several territories in the past year, which were subsequently taken over by the Development division. The merger of the two companies is thus a natural and logical step. I believe that it will also contribute to further deepening cooperation within the entire JRD Group," adds Alexandra Tomášková.
JRD Real Estate focuses on land and residential development and is currently developing 2,200 apartments in various stages of development with a future revenue value of CZK 16 billion (€674.3 million). It brings together experts in working with land units and urban development, who are involved in land acquisition, land consolidation and subdivision, and the sale of building plots. The selected plots are then used for the construction of environmentally friendly housing with a healthy indoor environment. JRD has been involved in this for twenty years and is currently the market leader in this field. The use of the latest technology and renewable energy, the gentle integration of the project into the site, the promotion of community life and the emphasis on healthy living are key to the division.
JRD Group represents a group of companies that are involved in sustainable industries. Its portfolio includes, for example, sustainable development, renewable energy and environmental waste management. The founder and owner of JRD Group is Jan Řežáb. Since February 2023, the Group has been led by Jan Sadil as Group CEO.