According to the latest report by Savills, the record take-up levels and no speculative completions caused the vacancy rate on the Czech industrial space market to plummet 70 bps to a new low of 1.75%, one of the sharpest quarterly declines observed in the market in the last five years. The total volume of modern industrial space available for lease across the country fell from 226,700 sqm in June to 165,000 sqm in September.
New industrial developments that were completed in Q3 2021 totalled 136,400 sqm. Although this was slightly down in y-o-y comparison, Q3 was the strongest quarter this year in terms of new deliveries. The national stock of modern industrial space intended for lease expanded to 9.5 million sqm, of which 329,400 sqm was brought onto the market this year.
Of all 14 regions, 11 had industrial projects under construction at the close of Q3 2021, contributing to a record-high pipeline of 1,072,600 sqm. Speculative developments, which could potentially increase the extremely low vacancy rate, account for 30% of the total pipeline. 88,500 sqm of space in the development pipeline had the shell & core structure completed and all of that space was available for lease within 3-5 months after lease signature. The largest share of this space was located in Ostrava and its vicinity, where brand new industrial space totalling 65,900 sqm was available across two buildings.
Lenka Pechová, Senior Research Analyst at Savills CZ&SK, comments: "A record 17 facilities of 20,000 sqm+ are under construction, the largest being the multi-story distribution centre with a total lettable area of 186,800 sqm built by Panattoni for Amazon. Overall, the Olomouc region accounted for the largest share of development with 280,500 sqm of space underway at the end of Q3. Moravia-Silesia fell to the second place, with construction underway on 265,300 sqm, and Prague placed seventh (out of 11), with 74,500 sqm under construction."
Total tenant activity in Q3 remained robust, although not as high as in Q1 2021, and posted the highest third-quarter results in the market's history. Third-quarter gross take-up amounted to 526,100 sqm, being 90% up y-o-y and 14% higher q-o-q. Lease renewals made 14% of the total leasing activity, being one of the lowest quarterly shares seen in the past five years.
Net take-up has set a new bar, increasing to 452,700 sqm in Q3 2021. This was 192% up y-o-y- and a 47% increase against the previous quarter. The share of pre-leases skyrocketed to 75% of the net take-up in Q3 2021. The Olomouc region accounted for the lion's share of total demand with the overall tenant activity recorded in Q3 2021 reaching 197,260 sqm, being 37% of the market total and 44% of the total net take-up. The second-best performing submarket, based on net take-up volume in Q3 2021, was Central Bohemia (41,800 sqm), and the Ústí nad Labem region placed third with 35,300 sqm of new demand. Net take-up was fuelled by e-commerce (51% of the third quarter net take-up), followed by logistics (20%).
Chris LaRue, Head of Industrial Agency at Savills CZ&SK, adds: "The Czech industrial market remains on an impressive trajectory of record-shattering take-up levels, high construction activity and record-low vacancy. However, despite the record volume of space under construction occupiers in expansion mode, and especially those with immediate occupancy requirements, continue to face a critical shortage of options in the majority of Czech submarkets. Rent levels are expected to stabilize around their current levels, with mild increase potentially seen in the regional markets as market prices adapt to new increased costs."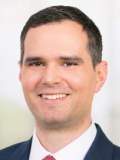 Christopher LaRue
Head of Industrial Agency
Savills Czech & Slovak Republics
Christopher LaRue has 15 years of experience in the real estate and industrial sector, including more than ten years on the agency side and nearly five years in manufacturing and e-commerce. Chris joins Savills from US technical power solutions firm, where he was operations and international sales manager. Amongst others, he was responsible for the European distribution centre in Prague and for the company's international sales performance in EMEA and APAC. Before that, Chris was an associate partner in the industrial team of an international real estate company, also based in Prague.
More »