CTP is expanding its industrial park north of the Serbian capital, CTPark Belgrade North, following the purchase of a 28,500 sqm warehouse and adjacent land for further development from Austrian-based real estate developer Eyemaxx. As a result, the overall capacity of CTPark Belgrade North now stands at 50,000 sqm, with the landbank enabling to achieve about 115,000 sqm of leaseable space at the location.
CTP has acquired a warehouse building from Eyemaxx at the end of 2020. The property currently accommodates the operations of companies such as Lidl, Mercata VT and Flux Systems. The acquisition is a steppingstone to further extension of the CTP north of Belgrade. "In January, we will start construction of a new, 25,000 sqm warehouse, which will be finished in the second quarter, with more development in the pipeline," explains Vlatko Djuricek, Country Head for Serbia at CTP. "There is huge interest in industrial and logistics complexes so close to the capital, with a direct connection to the A1 highway as a bonus."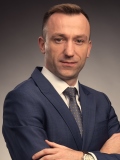 Vlatko Djuricek
Country Head of Serbia
CTP
Vlatko Djuricek has a Master degree in Civil Engineering in Construction Project Management from Belgrade University. In 2011, Djuricek started his professional carrier as a development and investment manager at Delta Agrar, part of Delta Holding, the biggest Serbian company. He has more than 8 years of experience in acquisition, investment and development working with leading international and biggest domestic real estate companies as Lidl at the position of Reginal Real Estate Manager and MPC Properties at the position of Head of Development and Acquisition. Vlatko Djuricek has been appointed as Country Head of CTP Invest Serbia at the end of 2017, ready to use his wide-ranged expertise in real estate. During this period, the Serbian portfolio is growing progressively and it is expecting to have its first 150.000 sqm in a short time. Vlatko Djuricek is also a member of the top 30 CTP management team.
More »
CTP has secured the land enabling to offer 115,000 sqm of lettable space at CTPark Belgrade North location. The company also owns and operates other modern industrial parks in Serbia, located in Kragujevac, Novi Sad or CTPark Belgrade West, which positioned also at the Serbian capital city.