Following the acquisition of Polish residential developer Budimex Nieruchomości - now renamed Spravia - construction of its first project has begun with its new owner, Czech developer and investor Crestyl. The two phases of the Mińska 69 residential complex in Warsaw will offer nearly four hundred apartments for long-term rent. Based on a previously concluded strategic partnership, they will be bought by Heimstaden Bostad, one of Europe's leading residential real estate rental companies.
Crestyl took control over developer Spravia together with investment group Cornerstone Investment Management in May this year. The PLN 1.51 billion transaction (approx. CZK 8.5 billion) is one of the largest real estate deals in Central and Eastern Europe since the outbreak of the Coronavirus pandemic. With this expansion, Crestyl complemented its large commercial development business by bringing up to six times the volume of residential sales each year than before.
"Our entry abroad in May was a milestone in Crestyl's evolution, and we are now a key regional player in the Central European residential real estate market," says Omar Koleilat, Crestyl's CEO. "We are delighted that the first properties are already under construction under our stewardship, with more to follow soon."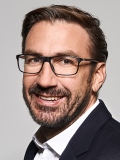 Omar Koleilat
CEO
Crestyl Real Estate
As co-founder of Crestyl Group, Omar envisions the company's business strategy, devises its financing and stick-handles investor relations. Omar is Czech and Lebanese and thus brings a mix of Middle Eastern flair and European precision to the company. With an education in the field of architecture and a British RICS graduate degree in real estate investment, Omar knows whereof he speaks. From partnering with GE on a €500 million investment to the creation of a stellar team of residential and commercial experts, Omar has been changing the face of the Czech Republic since 1998.
More »
Warsaw's Mińska 69 residential project is located in the trendy emerging art district of Kamionek and draws on the history of the site, which used to be a printing house. Although the project is being developed in several stages, it has been designed as a functioning whole to create a coherent public space with walking and cycling paths, recreational and green areas with urban furniture and children's playgrounds. Two phases have already been completed and a third is under construction. The construction of the fourth and fifth phases, which will offer a total of 396 apartments, has just started. The completion date is scheduled for mid-2023.
Spravia (former Budimex Nieruchomości) is one of the leading Polish residential developers. Since beginning operations in 1999, the company has built more than 18,600 housing units in five major Polish cities; Warsaw, Krakow, Poznan, Gdansk and Wroclaw.