Colliers International has taken over the management of the DSV International Shared Service Centre in Warsaw.
The design of the DSV International Shared Service Centre was based on the company's Danish headquarters. The building is located at the corner of Marynarska and Taśmowa streets, in Warsaw office district of Służewiec. DSV has recently sold its building to French investor Corum Asset Management in a sale-and-leaseback transaction. It then leased 100% of the building for a period of 10 years.
Construction of the property was completed in May 2020. The total area of this seven-storey building is 33,000 sqm, which is office space supplemented with service functions on the ground floor, including a gym, a canteen and conference rooms. The facility has a two-level underground garage.
"It is usually the landlord that chooses the property manager of the building. This time, Colliers International has been selected by the tenant. I am glad that DSV appreciates the standard of services we offer and believe that my team will meet the expectations of our client, as always", says Agnieszka Krzekotowska, partner and director of Property Management department at Colliers International.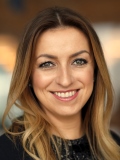 Agnieszka Krzekotowska
Partner, Head of PM
Colliers International (Board Member, RICS in Poland)
As the director of Real Estate Management Services, Agnieszka leads a team of over 95 experienced professionals and supervises the portfolio of real estate managed by Colliers in Warsaw and regional cities in Poland. Her duties include the development of the property management business, including the acquisition of new projects and searching for technologies and solutions to expand the company's current range of services. As a partner, Agnieszka is also responsible for co-creating the company's strategy. Agnieszka joined Colliers International in 2009. She has over 14 years of experience in the commercial real estate market, confirmed by cooperation with the largest funds operating on the Polish market. Agnieszka is a member of the prestigious Royal Institution of Chartered Surveyors and Advisory Board Member of RICS in Poland. She is a graduate of the Leadership Academy for Poland.
More »
The DSV Panalpina A/S Group is a global provider of transport and logistics services, with offices and branches in more than 90 countries on 6 continents. The DSV divisions form one of the largest global transport and logistics networks in the world.