Bogdan Doicescu, Development Director & Executive Board Member at Bog'Art, spoke to Property Forum about the cost forecast for the construction market in 2022 and the company's plans to diversify their activity with their own residential developments in Bucharest.
This interview was first published in Property Forum's annual listing of "The 50 most influential people on Romania's real estate market".
How did Bog'Art perform financially last year and what are your targets for 2022?
Bog'Art is a group of companies comprising construction, facade systems, steel production, building management, and real estate development. Together, these companies achieved an aggregate turnover of slightly over €150 million.
Despite the unpredictable general economic context, we were specifically able in many cases to lock-in prices. Where supply-chain issues were evident, we offered integrated building solutions.
For this year, our targets are to maintain the same level of business, with further diversification of our business line. Nonetheless, our core business remains civil construction work which accounts for 70% of our group revenues, and we have further expanded our competences to cover the complex tendering process for many big budget infrastructure and public works.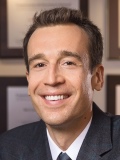 Bogdan Doicescu
Head of Real Estate Division
Bog'Art
Bogdan Doicescu is head of the real estate division of Bog'Art group and executive board member responsible for integrating the full spectrum Bog'Art building services in business lines such as reinforced steel production, general contracting, turnkey facade systems, building management, project management and real estate development. Bogdan holds a Bachelor's degree from Columbia University, a Master's degree in Real Estate Development from New York University and an RICS certification. Along with international perspective and accreditation, direct involvement in the family business has given Bogdan lifelong exposure to the construction and real estate sector in Romania, where his mission is to provide the next generation leadership of Bog'Art.
More »
What are the projects you are currently working on, and do you plan to launch new investments in 2022?
We have recently finalised several office buildings such as U-Center Phase 1 (46,000 sqm), Miro Offices (35,000 sqm), Globalworth Square (46,200 sqm) and J8 Office Building (79,000 sqm).
The major constructions underway are U-Center Phase 2 (22,700 sqm), the restoration of the cultural historic building Rosetti Boutique Hotel (1,030 sqm), Sinaia Hospital (8,000 sqm), Athenee Palace Hilton Hotel Bucharest 2nd wing renovation (5,640 sqm) and 101 Dalmațieni Kindergarten (2,100 sqm). We also have public infrastructure works such as the overpass over the Bucharest ring road (Berceni). Development is ongoing on our residential project, Art City (19.500 sqm) comprising 141 premium apartments and 180 parking places, 500 sqm of ground floor retail and other facilities.
As further investment into this project, we have also purchased an adjacent land plot of 2.6 hectares where we plan to launch a mixed-use scheme with predominantly residential destinations. For this plot, we worked alongside neighbouring developers to cover the entire area of about 7 hectares for an urban regeneration project. This site can accommodate over 2,000 apartments and significant neighbourhood amenities.
As other investments we have recently inaugurated the built-to-suit offices in Pallady area, off the Teclu metro stop next to our steel production base and logistics facility to expand the HQ of several companies in the group. Further land acquisitions in the pipeline will expand our real estate business; we are planning additional IT investments as well as the purchase of additional equipment for our steel factory. These investments amount to roughly €10 million in 2022.
Has the Ukraine crisis impacted your operations?
Operationally the supply chain blockages had an effect regarding the transportation of materials, namely raw steel where we had one supplier with notable quantities. Indirectly, the uncertainty created at the geopolitical level caused new investments to be put off, taking a "wait and see" approach which may have an effect in reduced demand from the private sector while the conflict persists.
What is your outlook of building materials' prices for 2022?
It is tough to make accurate predictions, but there may be a slight cooling off from first quarter peaks, although the general trend is for upward pressure. We have noticed from the end of 2021 an accelerated growth trend, even prior to the Ukraine conflict situation and before alarming double-digit inflation that shows no signs of slowing down. All major inputs in commodities had spectacular increases. There was a lot of pent-up demand and constrained supply, coupled with high liquidity from pandemic stimulus packages. These factors were already putting steep pressure on costs and went into overdrive with the Ukraine crisis noting the highest increase in the first quarter of this year. This continues its upward trend that will most likely persist over halfway through the year.
However, looking at futures in financial markets and all the inputs budgeted in our feasibility studies and construction offers, there is expectation for prices to decrease slightly. We may see that continued shortages of materials, and high demand are reflected in prices that stay or even exceed the current levels if projects with updated budgets kick off under the National Recovery and Resilience Plan (PNRR).
Which real estate segments are generating the biggest demand for construction services at present?
Since the pandemic, the office sector has seen the postponing of investments and unpredictable occupancy, while logistics and residential segments accelerated. These asset classes have been generating growing demand for at least 2-3 years and will most likely remain on the same trajectory in the future. In the public sector, demand for construction will be taken up by renovation to comply with energy efficiency standards, road infrastructure, airports, hospitals, stadiums, educational facilities and public utilities.
How are you adapting your construction activity for ESG-oriented buildings?
We build responsibly and have been adhering to sustainable principles before ESG was so championed. While ESG criteria in construction is becoming essential with nZEB policies, it is even more challenging from a cost consideration perspective and no clear legislation covering the breadth of ESG responsibility from building methods to end users. In my opinion many ESG practices check boxes, but until the focus and massive funds deployed in this direction are embedded in the chain of clients', occupiers' and municipality budgets, it will be increasingly difficult to deliver profound changes relying on technological solutions at a time of significant cost increases. The end users looking so much for ESG criteria will ultimately have to bear the costs through higher rent levels in offices and warehouses or prices for apartments, and the affordability may challenge certain assumptions that we hold to make ESG policies a reality.
What should Romania do to speed up public investments, especially through the PNRR?
PNRR has a huge task ahead of it to consume massive budgets in limited time. It is in the government's interest to implement projects at a fast speed to absorb the funds available.
We are very careful in the public tendering process, as the procedure is very time consuming and costly to submit a well-prepared bid. Procedures could be simplified, for example by a licensing and classification of construction companies eligible by relevant works, revenue level, accreditations. This would make it much simpler to adhere to standards, making the process more expedient.
From your perspective, what are some of the biggest opportunities for the domestic construction industry this year?
The opportunity is definitely in absorbing public funds available for investments in infrastructure, with major investments in public works with positive spillover effects, literally paving the way for growth in the private sector. Where there is a road or new metro there will be investments in warehouses, offices, shopping centres, residential complexes on the backdrop of sound macro fundamentals providing an attractive risk-reward profile as we take a long-term view on Romania.