Codrin Matei, Managing Partner, Head of Capital Markets at Crosspoint Real Estate spoke to Property Forum about the real estate asset classes that can attract new foreign investors and the high level of capital available for innovative projects. The agency has been generating growing revenues in the residential sector and expects business to grow in all commercial segments this year.
This interview was first published in Property Forum's annual listing of "The 50 most influential people on Romania's real estate market".
What does Crosspoint Real Estate's client portfolio currently look like in terms of specialisation and origin of capital?
The vast majority of clients are companies already present in the market with a detailed knowledge of market mechanisms and a high level of adaptability, compared to potential new investors interested in the local market. Lately, we have seen an increase in the level of liquidity available for investment in income-generating products and beyond. Existing clients in Crosspoint Real Estate's portfolio have an advanced degree of specialisation, with the ability to analyse the current economic context and make informed investment decisions.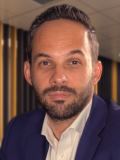 Codrin Matei
Managing Partner, Head of Capital Markets
Crosspoint Real Estate
Codrin Matei is the Co-Founder and Managing Partner of real estate consultancy firm Crosspoint Real Estate. The firm, founded in 2005, is an international associate of Savills in Romania. Codrin is currently working as Head of Capital Markets at Crosspoint Real Estate, handling international clients. He was involved in some of the biggest deals on the local market in recent years, such as the sale of The Day Tower office building in 2019 to the Corporate Finance House Group. Codrin is a certified investment consultant and holds a certification from London Business School in Corporate Finance. Before founding Crosspoint Real Estate, he worked for BRD – Groupe Société Générale, covering corporate and high-income individual clients.
More »
Which segments of the portfolio have seen growth this year compared to the same period last year?
Despite the current geopolitical situation, we have seen an increase in income coming from the residential area, having today more than 1,600 apartments in six residential projects in Bucharest in our exclusive portfolio. At the same time, a rebound in the office market was expected and I implicitly believe that this pace will continue throughout this year, while the other business niches are in line with expectations forecast last year.
What do you see as the biggest challenge for the local real estate market in 2022?
Spreading fear among investors as a result of the existing global situation. We have found that in times of imbalance – of any kind – the vast majority tend to react on impulse, without analysing and being aware of possible effects on the economy, and these reactions can greatly influence customer behaviour. In addition, the tightening of credit conditions will certainly have an impact on the housing market, especially the residential sector.
Romania recorded investment transactions of over €900 million last year. Could the €1 billion mark be passed in 2022?
As I have previously mentioned, there is a high level of liquidity among investors and a thirst for different products. This thirst comes as a result of high inflation, but also a desire to preserve capital, so I think there is a possibility that the €1 billion mark could be breached. Already in the first quarter of this year, the total investment volume was €87 million, up around 50% compared to the same period in 2021.
Which segments of real estate have the potential to attract new foreign investors to Romania?
As new asset classes, data centres and residential for rent (PRS) will increasingly attract investment. Of the traditional assets, the industrial space segment, as well as office space, will continue to show increased interest, considering that at least in Bucharest there will be a shortage due to the difficulty in obtaining building permits for new projects.
What are your plans for Crosspoint Real Estate this year? Are you looking to expand certain segments or recruit new specialists?
We did not stop recruiting at any point, and even when departmental or project teams are full, we always come across people who attract our attention either through their qualifications, expertise or certain skills. We are always ready to bring new people into the team.
As for business development and expansion plans, they are always there – from organic growth to possible acquisitions by other companies.