Genesis Property is investing €50 million in YUNITY Park, a mixed-use project in Bucharest with co-working and co-living components. Darren Allen, Development Director of Genesis Property spoke to Property Forum about the office market amidst the adoption of hybrid working and investing in campuses with complex facilities for a new work and play experience.
This interview was first published in Property Forum's annual listing of "The 50 most influential people on Romania's real estate market".
How do tenants in the Genesis Property portfolio approach the topic of employees returning to work in office buildings?
Returning to the office is on everyone's agenda and has been amplified on a wider scale with the lifting of restrictions in the context of Covid-19. In Genesis Property's office parks, where strong, reputable companies with over 95% occupancy have offices, we are already seeing more and more employees coming back to the office in a hybrid system, depending on companies' office working practices and return-to-work strategies with a predominantly physical presence. Companies are encouraging employees to work from the office and we are seeing an increasing need for people to interact, collaborate and even socialise outside the office.
Working in the office plays a very important role in maintaining work-life balance, and trends show that employees want the office to offer more and more experiences and options for spending time at work and beyond work. That's why, at Genesis Property, we've kicked off the transformation of Novo Park into YUNITY Park, a campus that will redefine the work and urban lifestyle of the future. YUNITY Park is a unique project, designed as an attractive destination for employees to spend time both in and out of the office, with a range of facilities such as a conference centre, an amphitheatre for outdoor events and an outdoor terrace that will serve a 4,000 sqm food hall.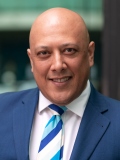 Darren Allen
Director, Healthy by Design Building Institute & Development Manager
Genesis Property
Darren Allen joined Genesis Property in 2020 as Development Manager and has been a key part of the IMMUNE Building Standard since its inception. Darren is a chartered construction and project management surveyor with +30 years of local and international experience, focused on project performance, stakeholder value and developing people. He has a proven track record within the UK, Europe, Qatar and UAE Markets and Sectors like new build, technology, commercial, residential, retail and hospitality. Darren is a Fellow of The Chartered Institute of Building (FCIOB), a Fellow of The Royal Institution of Chartered Surveyors (FRICS) and holds a Doctorate in International Business Administration (DBA).
More »
How important is the health of the office building from the point of view of employees?
The health of indoor spaces has always been a priority at Genesis Property, and in recent years employees have also become more concerned than ever about their health, including the indoor spaces where they spend most of their time. Offices need to become healthier, and the IMMUNE Building Standard™ launched by Genesis Property in April 2020 is a proven solution with its comprehensive and coherent set of measures specifically designed to protect the health of the spaces where people interact.
The standard, originally developed for office buildings has proven its versatility, and can be adapted to any type of building where people work or live. To date, several office, industrial, residential and educational buildings have already been certified, and last year, the H3 building in the West Gate Business District, managed by Genesis Property, became the first building in the world to be certified to the highest level, IMMUNE™ - Resilient. Our concern for health remains as high as ever, and Genesis Property plans to certify all seven buildings in YUNITY Park to the IMMUNE Building Standard™.
What trends are shaping the local office market in the post-pandemic period?
The hybrid working trend has transformed the way people work and live, but it's only the first step into the future. People want experiences, interactions and facilities tailored to their lifestyle, they want to feel part of communities with shared activities and interests, and they want everything at their fingertips. For the office market, these trends point to a transformation to offer people as many options as possible around the office, a wide range of amenities and leisure opportunities, the concept behind the YUNITY Park project.
How did you come to the decision to transform the Novo Park office complex into YUNITY Park?
The trends show us the direction in which the global office market is heading and confirm that we are on the right track. Genesis Property has always been a pioneer, with a strategy based on anticipating the future and adapting to trends before they become widespread.
People want real social interaction with those close to them and belonging to a community with shared values now more than ever, and the working and urban lifestyle of the future is based on these principles of creative social activities, outdoor movement and connection. YUNITY Park is thus a natural movement, aligned with the trends of today and the future.
Which property components will gain prominence in YUNITY Park?
First, a 1,000 sqm urban forest will appear in the space currently used as a parking lot, with event spaces, recreational experiences and outdoor workspaces integrated nearby. The project will include a modern amphitheatre dedicated to outdoor events with a seating capacity of 220, and residents will have access to an outdoor terrace in the warm season. This will serve a 4,000 sqm food hall and numerous areas for professional interaction and leisure socialising.
Inside, YUNITY Park includes co-working and co-living spaces, a modern conference centre with a total capacity of 540 seats and a 190-seat café-restaurant. In addition, there will be entertainment, fitness and specially designed areas for socialising and relaxing. At the same time, the building entrances and common interior spaces, such as the reception and lift area, will be completely transformed.
The transformation process has already started in April. Work is well underway and we are in discussions for partnerships in new areas of YUNITY Park.
How will the development of YUNITY Park shape the park from a sustainability perspective?
The project is part of Genesis Property's sustainability strategy, aligned with the 10 principles of the United Nations Global Compact on Human Rights, Labour and the Environment and the 17 UN Sustainable Development Goals. YUNITY Park will contribute to a significant improvement of the environment and to a better quality of life for the entire Genesis Property community. The company's commitment is to reduce the company's carbon emissions to net zero by 2040 through reuse of materials, investment in renewable energy generation and sustainable building management.
When will YUNITY Park be completed and how much are you investing in the campus? How are you financing the development?
The project is expected to be completed in the first three months of 2023 and the total investment is €50 million. A large part of the money comes from bank loans, a sign of the trust that banking institutions place in both our company and this future project. Of course, an important part of the financing comes from our own resources, the sustainable financial development of Genesis Property over the years ensuring the accumulation of resources for investment.
Will we see more office projects in Romania transformed to adapt to new working arrangements?
This trend of transforming office parks into destinations for work and leisure life and creating communities with shared values is a global one. Work and urban lifestyle trends confirm that the future of the office market is campuses with new amenities and experiences. Genesis Property has always been a pioneer in its area of activity, having, among others, the first private campus in Romania and the first hotel in an office park in Bucharest. We are also the first Romanian property owner and developer to join the UN Global Compact, the largest global initiative for a sustainable future.