If an architect plans a building now, that building will stand for at least 50 years. Architects have to keep this in mind, and take into account climate change scenarios as well as research and think with the mindset of the next generation. Gergely Paulinyi and András Reith, Founding Partners of Budapest-based architecture firm Paulinyi-Reith & Partners talked to Property Forum about branding, future goals and sustainability.
Your brand Mérték was recently renamed to Paulinyi-Reith & Partners. How did you come to this decision?
Gergely Paulinyi: The company has a long history. Its predecessor, Mérték Architectural Studio was established more than 30 years ago. András and I arrived to the firm approximately 15 years ago, around 2004. We soon established our first studio within Mérték, under the name Paulinyi-Reith Studio, and we believed from the very beginning that sustainability must have an important role in our architectural thinking.
András Reith: Gergő and I have known each other since university. When we established the Paulinyi-Reith Studio, we put together the best of our knowledge. Before joining Mérték Group, I have spent a few years abroad, mostly in Germany, where I had the opportunity to learn about the latest technologies and innovations of sustainable architecture. This knowledge is what I brought into the Studio. As for Gergő, it was his pragmatic design thinking. When these two combined, it started a chain of changes and eventually led to the complete reformation of the Studio.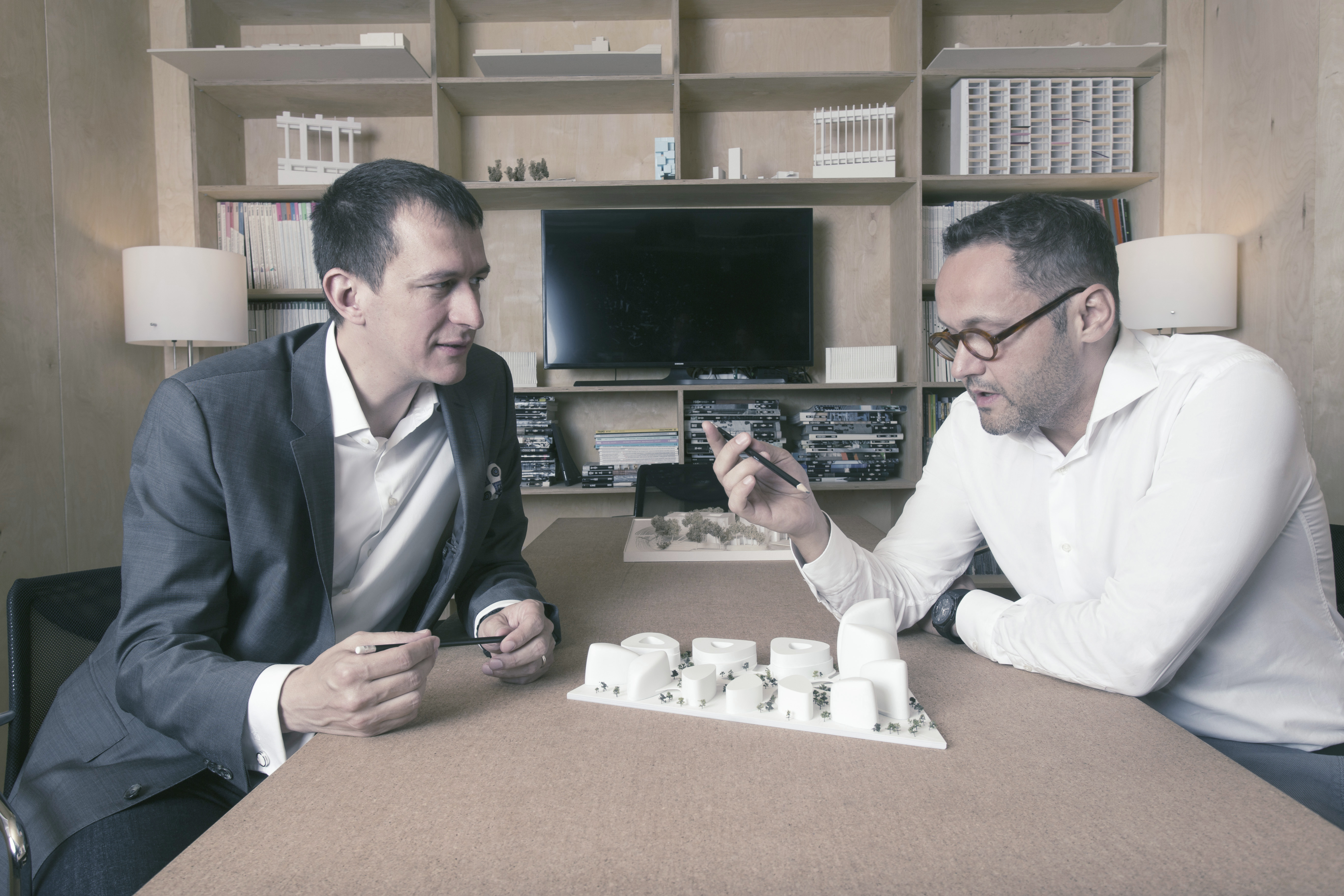 What was the main reason behind the renaming and what does the new name bring with itself?
GP: The whole rebranding is part of a longer process that András already referred to. The way we reformed the company was a conscious process; our goal was to create a corporate group with as wide of a portfolio of services in architecture and engineering as possible and to put sustainability and pragmatic design at its core. The new name and identity is a personal guarantee for these values and is a joint decision we made with our founding partners – László Fábián, Tamás Tákos and István Vámossy.
AR: The new name also came with a new corporate identity and a new website. It was necessary to renew all these in order to accomplish the goals that we set for 2025. This way the new brand represents all that we believe in – innovation, ethical design and a holistic approach – and it is suitable to take its place in an international environment.
What is this goal that you set for the company?
AR: Our goal is to become the most innovative and most future-proof architectural corporate group in the CEE region by 2025. Our working methods include the integrated design process, sustainable urban planning, parametric design and architectural optimisation. We believe that these methods distinguish us from the average. Our latest projects are the best proof of the success of our working methods: the Pannon Park Project (by the Budapest Zoo and Botanical Garden) that contains Europe's largest biodome, the Budapest ONE offices (by Futureal) or the multi-sustainability-award winning Nordic Light Offices (by Skanska). These are all good examples of unique architecture and optimisation to achieve sustainability goals and at the same time meeting the client's needs as well as the business plan of the entire project. We believe these prove very well the great potential of the team of our architects, engineers and researchers, without whom our work would be impossible.
GP: The teamwork is really important here. We don't believe in the polyhistor architect who can solve every problem by himself. The two of us have different interests and different strengths, we complement each other well, and we also have more than 60 colleagues in the office with their own expertise and skills, and every project is a result of our collective work. We can only reach our goal together with the whole team, and the new brand helps to unite us under the values that we consider important: sustainability, innovation, research-based knowledge, future-mindedness, just to mention a few.
At CEE Property Forum, one of your colleagues, Szilvia Bősze, Director of Business Development at Paulinyi-Reith & Partners will be present on the second section that raises the question 'How to develop buildings for the next generation?'. How does this question connect to your philosophy of sustainability?
GP: For us, sustainability is a basic concept for the whole design process, and it contains the whole lifespan of a building. This means that if we plan a building now, that building will stand for at least 50 years. We have to keep this in mind, and take into account climate change scenarios as well as research and think with the mindset of the next generation, the future users of our buildings at least in the next 5, 10, 20 years. It is not easy, but it is a really exciting task. I believe our slogan 'Our architecture, your tomorrow' reflects our attitude and commitment well. We raise and investigate questions about new trends that will or are likely to come, on the one hand from a technological point of view, and on the other hand from a social point of view. Sustainability is not just about the natural environment, it is about social perspectives as well. A sustainable architecture is a future-proof architecture.
AR: Sustainability is also an urban issue. We have to consider every aspect of a building's environment: natural, built, social and economic. We have to create smart cities, but this "smartness" has to be present in society first. A city or a building won't be smart just because of its technological innovations and solutions, but because of its users, its inhabitants. With our architecture, we try to create the optimal environment for a smart society, not just for ourselves but for the upcoming generations.
Cover image: Paulinyi-Reith & Partners