Vlad Drăgoescu, President of the Board of Directors – Nemo (Radisson Blu / Park Inn Complex) and Head of Portfolio Management at Revetas spoke with Property Forum about the growth engines for the Romanian hotel market and the €24 million overhaul of Radisson Blu that will make it one of the biggest 5-star hotels in CEE.
This interview was first published in Property Forum's annual listing of "The 50 most influential people on Romania's real estate market".
What is the current status of the upgrade efforts of Radisson Blu Bucharest and when will the additional rooms become available for guests?
We are very proud of our achievements since we launched our refurbishment program back in 2019. Even amidst the extremely difficult pandemic period, we have managed to invest over €16.5 million, roughly 70% from our €24 million budget in a variety of asset management initiatives aimed at improving the guest experience while also creating a more efficient and sustainable hospitality project.
Several key areas of the building were fully upgraded in terms of look and feel, including the entire lobby, reception area, the interior and the garden bars that were transformed into an amazing new concept – Aristocool. Also, the entire core MEP (Mechanical Electrical Plumbing) infrastructure of both hotels was upgraded especially in terms of HVAC as to ensure maximum comfort while optimising consumption and greatly enhancing efficiency, in line with the ESG initiatives.
As part of Revetas' strategy towards carbon neutrality across the business over the coming period, the entire portfolio in Romania is now exclusively using green energy, originating from wind, hydroelectric and solar power plants. Radisson Blu will become the first hotel in Romania to implement such an initiative, using 100% renewable energy, sourced from wind power plants and hydroelectric power plants.
Still, the dominant strategic initiative of the refurbishment concept is the addition of 200 new Radisson Blu keys in the two wings that were completely rebuilt. The rooms are projected to be finalised and open for booking in Q1 2023, making Radisson Blu one of the largest 5-star hotels in CEE with a total inventory of 623 keys.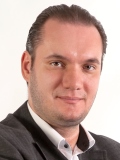 Vlad Drăgoescu
President of the Board of Directors
Nemo (Radisson Blu / Park Inn Complex)
Vlad Drăgoescu is the Head of Portfolio Management at Revetas Capital and is responsible for the activities of Ceres Management Services, also working as President of the Board of Directors at the Radisson Blu / Park Inn Complex. He is a graduate of the Faculty of Finance, Insurance, Banking and Stock Exchange within the Academy of Economic Studies (ASE) in Bucharest and has the DAFI master's degree from the same academy. Since 2017 he has been directly coordinating one of the largest hotel projects in the country, with more than 800 rooms, a market value exceeding €220 million and a modernisation investment program in the progress of about €24 million.
More »
What is your outlook on demand for Radisson Blu Bucharest this year considering that all restrictions have been lifted in early spring?
We trust that 2022 will stimulate the overall demand driving the occupancy and ADR close to the pre-Covid period while 2023 should bring the full recovery and potentially a small uplift.
Nevertheless, there are many factors influencing a strong and stable demand, primarily in the media and entertainment (M&E) sector that is limited by a wide variety of reasons, from private and corporate culture post-Covid to the unfortunate war in Ukraine. Also, we need to properly assess leisure tourism and the way the new airport in Brasov will temporarily influence the weekend inflows starting Q4 2022.
How can Bucharest further expand its share of business tourism and what is the role of a 5-star hotel in this ecosystem?
I believe that Bucharest is an amazing city that has a lot more to offer besides affordable party vibes. The 5-star hotels are the flagships driving the demand as they are positioning the market in terms of expected quality and services. From that perspective, I am contented to see more 5-star projects getting refurbished or entering the market as all this will be creating a proper hospitality cluster providing more attractiveness to the business and leisure guests.
Two important aspects supporting the business tourism inflows are the airport capacity and road infrastructure together with the conferencing facilities in the city. I see Bucharest as being the host of regional or CEE level fairs and events that will allow more business tourists to discover the city.
In terms of the business segment's preferences, we see that, especially after Covid, most private and corporate business travellers pay more attention to the hotels they are choosing in terms of safety and related amenities. Also, there is a clear interest in concepts offering additional services and various leisure options. From this perspective, I trust that we have a unique offering with two pools, SPA services, various indoor and outdoor restaurants and bars, one of the largest gyms in Bucharest and an internal courtyard giving that special summer vibe that even a business client cannot refuse.
Are you looking to expand your hotel portfolio with new developments/acquisitions in Bucharest or regional cities?
We are constantly looking for new hospitality projects and we believe that the 4–5-star market will register solid growth throughout Romania in the next few years. There are many regional, yet predominant cities in Romania that do not benefit from a proper presence of branded, quality-oriented hotels and I consider this will totally change in the next few years.
How can a hotel create more value in terms of experience for guests and what facilities play a key role?
Regardless of travelling for business or leisure, a stay in a hotel should always be an emotional experience that extrapolates outside the factual amenities. Therefore, the key role here belongs to the staff, who can transform any regular experience into an amazing, emotional memory.
Thus, the simple yet complex answer is that hotels should be able to create memorable experiences, and this takes a seasoned mixture of proper amenities, backed by efficient and modern technology, plus a professionally trained and dedicated team. I consider that each hotel should first understand its markets and related clients' profile so as to invest in the amenities and HR resources allowing it to deliver beyond guests' expectations. A summer resort should focus on further improving the leisure component, like restaurants, beach, and pool facilities, while a business hotel should focus on breakfast waiting times, working and meeting or conference facilities to support the related community. Our complex is a unique hybrid, combining both leisure and business clients each week, over two different hotels, which is creating even more complexity in delivering the services and ensuring the relevant services for each guest type.
How are you managing the spike in energy costs and how are you integrating this into the sustainability objectives?
First of all, for me and Revetas as a group, the most important aspect is quality and sustainability, which made us switch to full green energy supply starting mid-last year. In terms of energy utilisation efficiency, we have invested in the last two years more than €1.5 million in modern HVAC technologies like heat recovery, new chillers with free-cooling and high-efficiency boilers that should reduce consumption by at least 10-15%. In addition, we closely monitor the utilities' pricing, and we are running different commercial scenarios, but we have decided not to reflect the energy spike in our pricing strategy for the moment.