Horațiu Florescu, Chairman & CEO of Knight Frank Romania, Hungary, Bulgaria, Greece & Serbia spoke to Property Forum about the emphasis on the hybrid concept in the local real estate market and Romania's ability to attract more institutional real estate investors.
This interview was first published in Property Forum's annual listing of "The 50 most influential people on Romania's real estate market".
How will the office sector adapt to the new approach of companies and employees to hybrid working?
More companies have returned to offices in Bucharest, some even permanently, and we are seeing these messages from IT giants as well. For example, Meta recently leased 20 floors in Tel Aviv in a building that is currently under construction, and Google announced in early 2022 an investment of more than $1 billion to acquire an office building in London. These are just two of many examples.
There are, of course, advantages and disadvantages to the hybrid way of working. Those who support the model do so for talent retention, geographic expansion, streamlining processes and operations, or even to support companies' sustainability programs. Those against the model suggest that it makes collaboration nearly impossible, slows career development, impairs tacit learning that requires physical rather than virtual presence, or that it breeds a more inefficient managerial model. While this debate will continue, hybrid will be one of the most used words in our industry, at least in 2022.
Companies want to be seen to be responding to the new reality of work. However, I think it is important not to take the exception as the general rule and get sucked into hyperbolising the idea. We expect this year to better clarify the practical challenges of hybrid working and anticipate growing concerns about the effects on organisational culture, human connection, and development.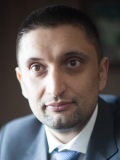 Horațiu Florescou
Chairman & CEO
Knight Frank Romania, Hungary, Bulgaria, Greece & Serbia
Horațiu Florescu is the Chairman and CEO of real estate consultancy firm Knight Frank in Romania, Hungary, Bulgaria, Greece & Serbia. His career in the property sector spans 25 years, having advised key developers and large multinational companies operating in the CSEE (Central & South Eastern Europe) region. Horațiu founded the Romanian office of Knight Frank in 2009. Meanwhile, in 2018 he coordinated the launch of the office in Budapest and in 2021 he managed the opening of Knight Frank's offices in Bulgaria, Greece and Serbia. Along with his team, he has worked on deals with clients in all three of these countries. Before setting up the local office of Knight Frank, he was Vice President of real estate consultancy Colliers International. Horațiu has leased over 1 million sqm of office space himself.
More »
How important are facilities for a residential project in Bucharest and what is the most effective mix in this respect?
It is complicated to generalise to meet such a broad market. In principle, I would say that amenities are becoming more and more important because everyone is looking for an optimal work-life balance. The amenity mix of a residential project is dictated by its location as well as the target group of the project. If it is a location that has a mall nearby, then you do not need much retail space, but if the mall has a gym with access for everyone, and the residential project is a premium one, then you need a gym on the same level with a spa included. Each project needs to be analysed independently and a strategy is devised in which the mix of apartments is harmoniously blended with the amenities, target group and marketing. That is what our residential team offers, apart from sales. Only then can we talk about efficiency.
What are your expectations from the Romanian transaction market this year, especially in the office segment? In the residential area, is there potential to attract institutional investors in the acquisition area?
Absolutely. We will see more and more institutional investors, especially from CEE, but also private money in the office area. On residential, we still have a lot of end buyers, those who are moving into apartments or making small investments (1-2 apartments), but institutional investors will follow, because we see the market maturing. However, we are lacking products, we do not have too many portfolios in this respect, and this is where the streamlining of licensing will also matter.
How competitive is Romania in attracting real estate investment compared to other markets in the region?
The local market has much better yields than the region, quality Class A buildings – most of them even very good, and room to mature and grow in the market.