Poland-based proptech company Velis Real Estate Tech announced that its facility management software Singu FM has been implemented across Prologis' EU portfolio and six U.S. markets. Prologis is a global leader in logistics real estate with a focus on investing in technology that helps customers solve their pain points and run their businesses as efficiently as possible.
Velis Real Estate Tech is a proptech company that develops modern technologies for the commercial and industrial real estate markets. Over the past ten years, the company has successfully implemented innovative solutions in thousands of buildings across four continents by integrating both its own designed software and hardware.
"The expansion of our partnership with Prologis is another solid step in our journey toward the digital transformation of the real estate market," said Adam Penkala, Vice President of Velis Real Estate Tech.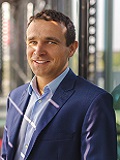 Adam Penkala
Co-Chief Operating Officer
Velis Real Estate Tech
Cracow University of Economics graduate in the field of Information Technology and Econometrics and MBA at the University of Bedfordshire. Certified Project Manager with an ITIL certificate, experienced in leading advanced IT projects. In 2009 he co-founded Velis Real Estate Tech, a company offering PropTech solutions. In recent years he has successfully implemented and managed many projects in seventeen countries. Adam, as a co-founder of Velis and Chief Operating Officer, is responsible for marketing and PR teams as well as global expansion department.
More »
Velis Real Estate Tech has been operating for more than 10 years and is now present on 4 continents. Its software has been implemented in several thousands of buildings, in a dozen countries worldwide. After Europe, Asia and Africa, the time has come to conquer the Western hemisphere. The company is concentrating in particular on the North American market.