This year, Mint Investments will continue focusing on creating above average returns with minimum risk for its investors in the Czech Republic and Slovakia. Katarina Lindbergh, Partner of Mint Investments discussed this year's plans for new residential projects in Prague and Bratislava with Property Forum.
How was the year 2022 for Mint Investments? How have the ongoing challenges (war, energy crisis, high inflation) affected your investment strategy and asset class preferences?
In 2022, the world has become very unpredictable. Several changes could have been anticipated, but none of us could have expected the extent of the energy crisis or soaring inflation and that interest rates would rise multiple times. Nevertheless, we have remained calm and have continued to stick with our strategy and vision focusing on our projects and developing our asset management competence, which is the core of our business. We will continue to work on our development projects according to the planned standard because we want to build well and of the best quality. We stayed flexible, focused, and prepared and as a result, we have succeeded on several fronts. For example, for private investors, we have purchased Coral Office Park which comprises four independent office buildings totalling almost 35,300 sqm in Prague 5. At the end of 2022, we acquired an asset management mandate for a large portfolio from Amundi Czech Republic, for who we have already successfully managed another portfolio.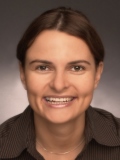 Katarina Lindbergh
Partner
Mint Group
Katarina Lindbergh is a Partner responsible for Leasing and Property Management at Mint Investment as of 2004. Before coming to Mint, she was Head of Corporate Finance at J&T Finance Group in Bratislava. Between the years 2000 and 2002, she specialized in Emerging Europe and Global Equities while she was Vice President at Deutsche Bank AG in London/Madrid. Building EMEA and European franchises, she advised leading global asset managers on EMEA and European equity investment, execution of IPOs, and SPOs. She started her career at Erste Bank in London and Vienna where she was Head of Institutional Equity Sales for Austrian and EMEA Equities between 1995 and 2000. She was mandated to set up the Equity Sales Desk in Erste Bank's London branch, achieving a 40% market share in Austrian Equities (Reuters Fund Managers Survey 2000). Katarina studied Master of Science in Business Administration at the University of Umea in Sweden and Comenius University in Bratislava with a Master's Degree in Business Administration.
More »
As a group, Mint Investments manages the real estate investments of a number of global institutions and large private investors with over CZK 15 billion in assets. What are your next goals? Do you intend to expand beyond the Central European region?
We are sticking with our goal to create above-average returns with minimum risk for our investors. We continue to concentrate on our home markets – the Czech Republic and Slovakia. These are the countries with the highest growth and the most stable economic environment. This is where we show our competence and track record since 2004.
This year, we will focus on the opportunities that will come along in our markets, whether it may be residential development in Bratislava or office projects and residential development in the Czech Republic. We will also continue to concentrate on our asset management business. On the development front, we are preparing a large development project with 380 apartments in Prague, and we are waiting for the right moment to start marketing and constructing.
Two years ago, we began intensive education in ESG strategies, to which we devoted much time and financial resources. As part of the ESG philosophy, we have implemented many processes at Mint and want to continue to improve in this area. Progressively, all the buildings we manage will be subject to an ESG audit that will evaluate their current technical condition and their potential for further development in the future.
Mint's Residential Fund was launched in 2020 as the first rental housing fund available for the general public in the Czech Republic. How has the fund's portfolio expanded since then?
Since the launch of the fund, we have acquired 3 projects, geographically diversified – Prague, Brno, and Pilsen. Project Mint Living Brno Campus was acquired in November 2020. Currently are all 120 flats and over 3500 sqm of commercial area (offices and retail) fully leased with demand exceeding the capacity of the project. In June 2021, we signed an acquisition agreement of project Mint Living Praha Vysočanský mlýn with Metrostav Development. The project is now being built by Metrostav and shall be ready for its first tenant in January 2024.
And our latest project, Mint Living Plzeň Skvrňany is part of a newly developed residential complex by Trigema. We have closed the acquisition in December 2022 and we are now furnishing all 107 flats with custom furniture. This will set a new standard of rental living in the Czech Republic.
What type of tenants are you targeting in the properties you have in your stock?
Our tenants include a very wide variety. For our office projects, we are targeting mostly large renowned international companies with excellent track records. Breda Weinstein shopping centre boasts a very efficient combination of stable international brands and a regional/local tenant mix.
What's next for the fund? Do you plan to expand the portfolio in other cities as well?
We definitely plan to expand the Mint rezidencni fond portfolio, our focus is on cities with population growth and strong economic environment. Currently, we target mainly Prague, Brno and Pilsen. In the long term, we will definitely have a look at strong regional cities with universities and Bratislava.
How would you summarize the current situation in the rental housing market in the Czech Republic and Slovakia? Do you see continued demand for such properties?
We have witnessed a major shift in rental demand which was a combination of factors. There have been long-term factors like changes in the perception of the younger generation to ownership of assets (preference of shared economy) or location independence. There have been macroeconomic factors like rising interest rates and tightened parameters for mortgages by the Czech National Bank and ECB which basically limited the majority of the population to buy a flat. We can see that this has been a standard in western countries, e.g. Germany where rental housing accounts for almost 50 % and we expect this figure in the Czech Republic and the Slovak Republic housing markets to converge. You can already see that leading developers are ready to reserve some of their upcoming projects for rental use.
You're also developing a large residential project in Bratislava, Metropolis. How is that progressing?
The construction of Metropolis is progressing according to plan, at the moment, we are working on the 12th floor. We expect the shell construction to be completed this summer and the project is scheduled for completion in the second quarter of 2024. We are very happy to have the opportunity to cooperate with Takenaka, who is the general contractor for the upper construction. With its 400-year tradition, Takenaka applies Japanese work methods, value engineering, and the ingenious Japanese control and quality management system, Kaizen. Our goal for Metropolis is to achieve the highest possible energy sustainability certificate A0, in such case, the energy savings could reach up to 20-25 percent. We applied innovative technology solutions such as top-quality recuperation from Wolf and ceiling heating and cooling from Rehau. We are extremely proud that Metropolis is perceived as one of the best quality residential projects in Slovakia, it has been awarded the Best Residential Upcoming Development Award in the prestigious CIJ Awards.